Caps and Closures, Plastic Caps, Metal Caps, Dispensing Caps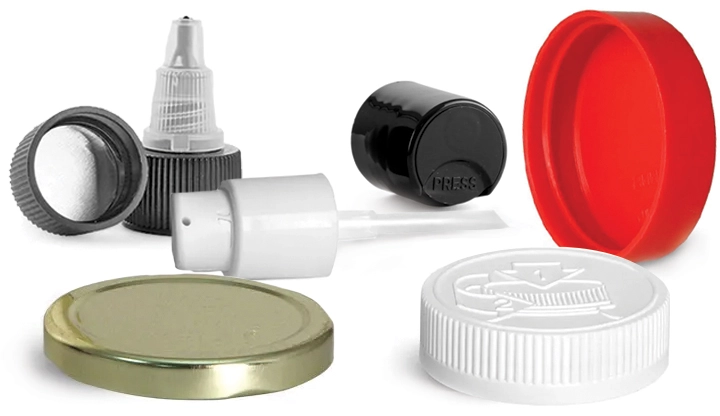 Plastic & Glass Droppers
Pick from our assortment of plastic and glass droppers in various lengths, colors and neck finishes.
Plastic Brush Caps
For precise product application, use brush caps - plastic caps with attached brush applicators.
Metal Caps
Choose from our lined or unlined metal caps in a range of sizes and finishes.
Child Resistant Caps
SKS stocks an endless number of child resistant caps for a range of needs.
Cork Stoppers
Cork stoppers are available in standard sizes from 000 to 11 to accommodate many different types of bottles.
Glass Closures
These flat pressed glass closures feature flexible plastic fitments that fit securely in a variety of glass jars.
Orifice Reducers & Sifters
Insert orifice reducers and sifters into bottles to control liquid or powder product outpouring. Select disc liners and deodorant fitments to provide an added layer of protection for your products.
Plastic Caps
We offer a huge selection of threaded plastic closures that includes smooth, dome and ribbed plastic caps.
Plastic Dispensing Caps
Select from an assortment of colorful, stylish dispensing caps, such as disc top caps, spout caps, yorker caps and more.
Lotion Pumps and Fine Mist Sprayers
Dispense your products through lotion pumps, fine mist sprayers or atomizers.
Shrink Bands
Apply shrink bands to provide a tamper-evident seal on all of your products.
SKS Caps & Closures
At SKS we understand there are many factors to consider when selecting a closure for your container, such as how the product should be dispensed, if the packaging requires extra protection, and the overall style you'd like to achieve. To meet your packaging needs we provide a vast inventory of closures in both the screw thread or continuous thread styles as well as lug caps to pair with various containers based on neck finish. Whatever your packaging needs, we have the perfect closure for you, whether it's a dispensing, non-dispensing, metal, or plastic cap. We offer both unlined and lined caps including PE, F217, pressure-sensitive, plastisol, or induction liners. Choose from shrink bands and tamper evident closures to give customers peace of mind. To make finding the right closure easier, we offer Cap Code measurements to match closures and containers. Our alphanumeric codes are designed to correspond with our bulk bottle and jar neck finishes, ensuring you get the right fit every time. As always, be sure to test your product with the packaging and closures to ensure proper compatibility.