Plastic Tubes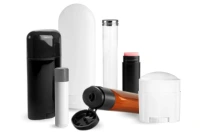 Plastic Lip Balm Tubes
Plastic lip balm tubes are offered in multiple colors, shapes, and sizes, with a variety of matching caps and accessories.
Plastic Deodorant Tubes
Plastic deodorant containers are available in a stylish variety to fit your needs.
Plastic Tottle Bottles
Choose from clear or amber PET, natural HDPE or white HDPE plastic tottles. Sizes range from 1/2 oz to 4 oz.
Plastic Flex Tubes
Plastic flex tubes are available in a variety of shapes and sizes with plug caps, hang tabs or screw caps.
SKS Plastic Tubes
The plastic tubes index separates our selection of plastic tubes into subcategories. Choose from lip balm tubes, flex tubes, deodorant tubes, tottles, and tube bottles to select the best container for your needs. All of our plastic tubes may be purchased in bulk to receive the best pricing. Click on a category above to start shopping!