Glass Bottles By Shape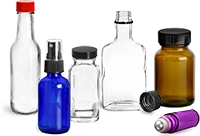 Glass Boston Round Bottles
SKS offers amber, clear, blue, and frosted glass boston round bottles paired with a range of closures.
Glass Euro Dropper Bottles
Euro dropper bottles in amber, blue, and green are matched with various plastic caps for easily dispensing products.
Glass Sauce Bottles
SKS offers unique glass sauce bottles in styles for hot sauce, barbecue sauce, syrups, salad dressings, and much more.
Square Glass Bottles
Choose french, marasca, perfume, and honey muth square glass bottles with a variety of closures.
Glass Roll On Bottles
Roll on containers in vibrant colors are available in wholesale bulk cases and kits for essential oils, perfume, and more!
Glass Specialty Bottles
Glass bottles in specialty styles are available here for packaging products that could include honey, wedding favors, homeopathic supplies, and more.
Glass Beverage Bottles
Clear and amber beverage bottles include dairy bottles, liquor bottles with handles, swing top bottles, and more.
SKS Glass Bottles
At SKS Bottle & Packaging, Inc., we offer a wide range of glass bottles in different shapes to suit your product packaging needs. Our collection includes square, round, oval, boston round, and more, each with its unique style and functionality. Whether you are looking for a traditional look or a modern and innovative design, we have a glass bottle shape to fit your product perfectly. Our glass bottles are made from high-quality materials and are ideal for various industries, including cosmetics, food and beverage, and pharmaceuticals. We understand the importance of packaging in product branding and marketing, and that's why we offer a vast selection of glass bottles in different shapes to help you create a unique and distinctive look for your products.

For a full cohesive product line when offering products such as foods, cosmetics, aromatherapy and much more, be sure to purchase glass jars and glass vials to complement your glass bottles.
Chat with Us