Plastic Jars By Size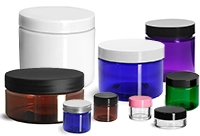 1/4 oz Plastic Jars
Browse through our selection of compact 1/4 oz plastic jars with lids in a range of colors and styles.
1/2 oz Plastic Jars
1/2 oz plastic jars are available in amber, clear, white, natural, and more in versatile styles to meet your packaging needs.
10 - 45 ml Plastic Jars
Choose from a variety of small plastic jars in 10 ml, 20 ml, and 45 ml sizes, including cosmetic jars with sifters, eyeshadow pans, and styrene plastic jars.
1 oz Plastic Jars
Select from 1 oz plastic jars in various materials and colors to match your product needs and style.
2 oz Plastic Jars
SKS offers a large selection of 2 oz plastic jars, including amber heavy wall jars, black thick wall jars, and clear straight sided jars.
4 oz Plastic Jars
Browse 4 oz plastic jars in different colors and styles paired with metal and plastic caps for endless packaging possibilities.
8 oz Plastic Jars
SKS has an expansive inventory of 8 oz plastic jars including durable polypropylene and PET jars, as well as eco-friendly packaging options.
16 - 17 oz Plastic Jars
SKS offers a variety of large plastic jars in 16 - 17 oz sizes. View 17 oz peanut butter jars and a variety of 16 oz plastic jars to package larger volumes of product with ease.
Other Plastic Jar Sizes
When looking for specialty jars, browse here for small compact plastic jars, 10 oz and 12 oz plastic jars, plastic jars for home or restaurant organization, and more.
SKS Plastic Jar Sizes
SKS Bottle offers a wide variety of plastic jars in different sizes to meet your product packaging needs. Our collection includes small, medium, and large-sized jars ranging from 10 ml to 32 oz. These jars are available in high quality materials, shapes, and colors suitable for various industries including cosmetics, bath & body, food, and more. We understand the importance of packaging in product branding and marketing, which is why we offer a vast sampling of jars to help create a unique look for your products. To complete your product line, consider also purchasing matching SKS plastic bottles.
Chat with Us