Sample Size Containers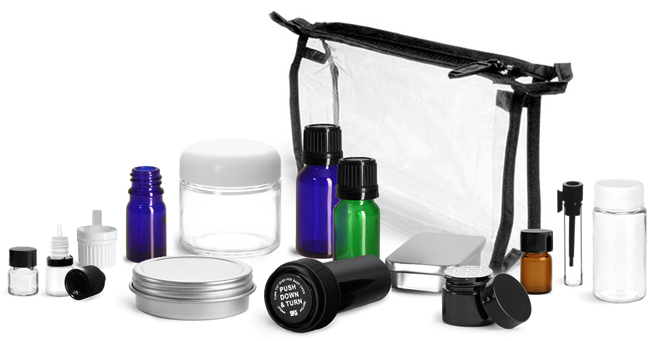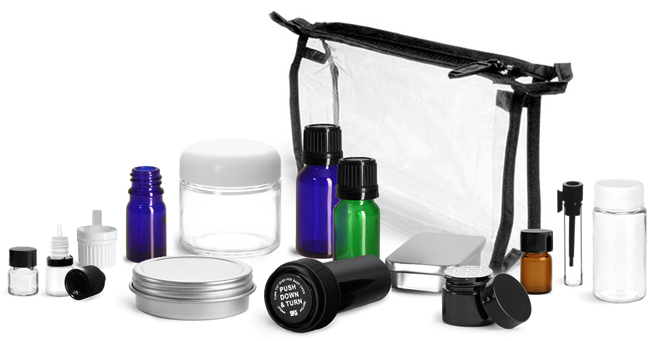 SKS offers plastic, glass, metal, and paperboard containers in sample or travel sizes to match various product lines. Offering samples to existing and new customers can allow them to experience your product before buying, leading to higher customer satisfaction. Sample sizes are also perfect for specialty items, including gift sets and hotel amenity collections.

All of the sample size containers listed are available in a 3 oz capacity or smaller to provide adequate sample packaging that also follows TSA regulations for easier traveling. Purchase in-stock plastic bags to conveniently package and sell various travel size containers or gift sets. Choose sample size containers with plastic or metal caps and various dispensing caps.
Read More...
Sample Size Glass Jars
Clear, amber, and frosted sample size glass jars, with your choice of metal or plastic closures, are available in 3 oz sizes and below. The variety of sample size glass jars SKS has to offer provide options for a range of industries to create sample or gift sets of products, such as jams and preserves, skincare treatments, and much more.
Glass Sample Size Bottles
Browse the large selection of amber, clear, frosted, green, and blue glass sample size bottles paired with a variety of closures. These sample size containers offer an elegant option for packaging gift sets, product samples, promotional or seasonal products, and more.
Glass Sample Size Vials
Clear, amber, green, and blue glass sample size vials are paired with plastic caps, fine mist sprayers, glass bulb droppers, and more to help showcase samples, such as perfume, essential oils, and body care products, and can blend seamlessly into complete product lines.
Metal Sample Size Containers
Select from a variety of metal sample size containers, including metal tins and aluminum sample bottles with dispensing caps. Consider screw top tins, hinge top tins, and metal tins with clear top covers, to create eye-catching sample packaging for a wide range of products.
Paperboard Sample Size Containers
Paperboard tubes and jars present an eco-friendly packaging choice for samples and travel size products. Paperboard tubes and paperboard jars can provide packaging for sample size cosmetics, lip balm, travel size sunscreen, and more. These paperboard containers include an oil resistant paper liner that allows for an array of products to be packaged durably and sustainably.
Plastic Bags for Sample Size Containers
Select from clear plastic bags with zipper closures in vinyl and eco-friendly options when creating a set of hotel amenities, gift sets within a product line, or preparing TSA-approved travel size containers. These travel size containers include zippers for secure storage while traveling and also offer a high-end feel for packaging gift sets. SKS also carries convenient premade travel size container sets that include clear vinyl bags and sample size containers sold together.
Plastic Sample Size Bottles
Plastic sample size bottles can easily be used to expand product lines for a range of industries to create hotel amenities, travel size sets, and product collections in the same styles as our full size plastic bottles. Choose from clear, natural, white, purple, green, blue, amber, black, and frosted plastic sample size bottles with dispensing caps, child resistant closures, and more to find a set to fit your needs.
Plastic Sample Size Vials
Our wide variety of clear, natural, and opaque plastic sample size vials can be used to package hotel amenities, product samples, and gift sets. These vials are composed of highly durable plastics and feature secure lids, making them versatile and good for storing on-the-go. Plastic sample size vials can be an easy addition to a full product line.
Sample Size Plastic Jars
SKS carries sample size plastic jars, ranging from 7 ml to 3 oz, in numerous styles, including cosmetic jars, heavy wall jars, straight sided jars, and more, paired with plastic and metal caps. Select from the expansive possibilities of sample size plastic jars available in clear, natural, white, black, amber, blue, green, and purple options to easily create gift sets or product samples.
Sign up for SKS Emails!