SKS Bottle & Packaging Locations
Shipping From The East & West Coast!
With locations in both Saratoga Springs, NY and Sparks, NV, SKS is continuously working to improve the customer experience from the moment an order is placed to its delivery. Our central facility in NY includes our helpful Customer Care team and main warehouse for our expansive inventory of plastic, glass, and metal containers and closures. The NV distribution center focuses on order processing, offering faster transit times for our west coast customers.
Ordering with SKS
SKS' New York and Nevada facilities are synced to process and ship orders in the most efficient way for all customers. We work closely with UPS to streamline transit times and costs for every order. To estimate the transit time to your shipping destination, view our
UPS Group Maps
for reference.
How Shipments from SKS Work:
The ship-to zip code on your order will be used to locate the nearest distribution center.
UPS will calculate all available shipping methods and provide the costs.
If your order ships partially from different locations, your shipping costs will not be affected.
Once an order has shipped, you will receive a detailed digital packing slip with UPS tracking information, and information on where your order shipped from.
If you have questions as to which distribution center your products will be shipping from, or any additional inquiries, don't hesitate to contact one of our customer care representatives via phone, email, or live chat!
SKS' Main Location: Saratoga Springs, NY
In 2017, SKS embarked on an exciting transition from its former main location in Watervliet, NY to a state-of-the-art facility in the beautiful city of Saratoga Springs, NY. This move marked a significant milestone for our company, as we sought to modernize and expand our operations.
Our new building, which we officially occupied in 2018, spans an impressive 143,000 square feet. It encompasses not only a spacious warehouse but also two floors of well-designed offices. This cutting-edge location has allowed us to embrace sustainability and reduce our energy consumption. We have implemented various eco-friendly measures, including the use of solar panels, motion-sensor lighting, and large windows that flood the workspace with natural light.
The Saratoga, NY facility has been instrumental in revolutionizing our warehousing capabilities to better meet the needs of our operations and customers. With its strategic layout and advanced infrastructure, we have optimized our warehouse operations, leading to increased efficiency and streamlined processes. We are confident that this setup will continue to offer us numerous opportunities for ongoing advancements well into the future.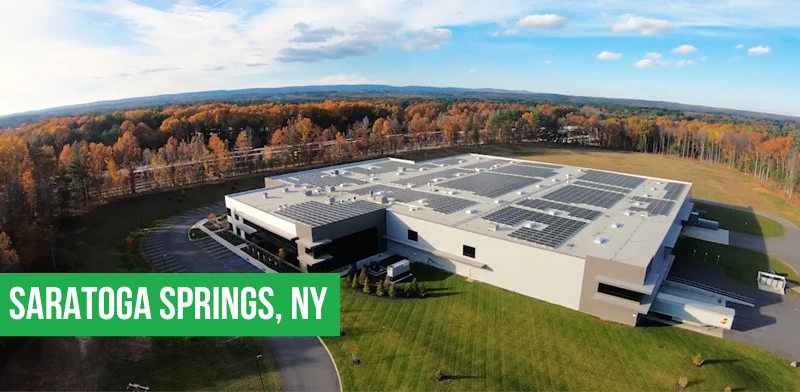 We want to thank all of our loyal customers across the world for allowing us to continually serve all your packaging needs. To stay up-to-date with the latest happenings at SKS, we encourage you to visit our website's
What's New
section, explore the
New Products
added to our inventory, take advantage of our
Promotions
, and be sure to subscribe to our
Newsletters
and email updates for exciting news and valuable coupons!
Chat with Us
Sign up for SKS Emails!