SKS Bottle & Packaging Locations
Now Shipping From NV and our New NY Location!
With locations in both Saratoga Springs, NY and Sparks, NV, SKS is continuously working to improve the customer experience from the moment an order is placed to its delivery. Our central facility in NY includes our helpful Customer Care team and main warehouse for our expansive inventory of plastic, glass, and metal containers and closures. The NV distribution center focuses on order processing, offering faster transit times for our west coast customers.
Ordering with SKS
SKS' New York and Nevada facilities are synced to process and ship orders in the most efficient way for all customers. We work closely with UPS to streamline transit times and costs for every order. To estimate the transit time to your shipping destination, view our
UPS Group Maps
for reference.
How Shipments from SKS Work:
The ship-to zip code on your order will be used to locate the nearest distribution center.
UPS will calculate all available shipping methods and provide the costs.
If your order ships partially from different locations, your shipping costs will not be affected.
Once an order has shipped, you will receive a detailed digital packing slip with UPS tracking information, and information on where your order shipped from.
Since transitioning to digital shipping methods in 2013, SKS has saved approximately 2,162,000 sheets of paper and is continually decreasing printing in every department!
If you have questions as to which distribution center your products will be shipping from, or any additional inquiries, don't hesitate to contact one of our customer care representatives via phone, email, or live chat!
SKS' New Saratoga, NY Location
SKS has transitioned our main location previously in Watervliet, NY to a new modern, expanded facility in
Saratoga Springs, NY
.
The new building has allowed SKS to become even more eco-friendly in many ways. With the recent installation of solar panels, motion sensored lights throughout the building, and large windows for natural light, we are are reducing our energy consumption throughout the day.
The Saratoga, NY location has allowed us to create a warehouse better suited to our operations and the needs of our customers, with many improvements for the years to come!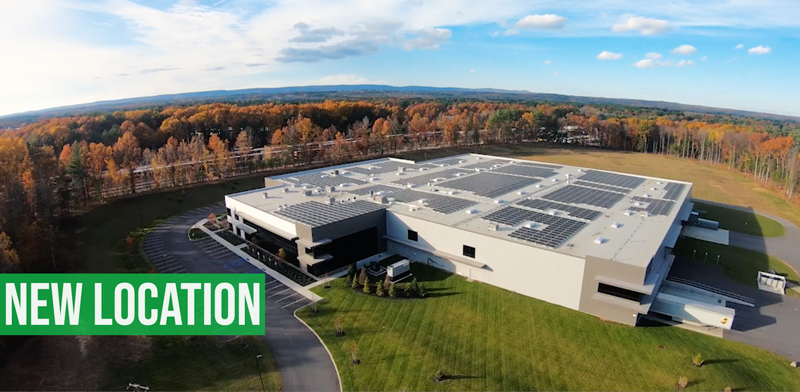 Improvements at Saratoga:
Streamlined warehouse operations
Increased efficiency
Solar Panels
We want to thank all of our loyal customers across the world for allowing us to continually serve all your packaging needs now and in the future. Keep track of
What's New
,
New Products
added to our inventory,
Promotions
, and be sure to subscribe to our emails for
newsletters
and coupons!
Chat with Us
Sign up for SKS Emails!