Plastic Boxes, Plastic Storage Boxes and Cases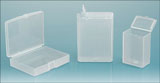 SKS is now offering a selection of plastic boxes and plastic cases. We have standard and customized molded plastic cases for a variety of uses. Use these cases to organize a variety of products. Organize your crafts, your garage, your fishing lures, nuts and bolts, and more! The plastic boxes and cases are great for keeping your belongings contained in a neat, orderly, and easily accessible manner. Each plastic box we carry combines bulk storage with compartmentalization to give you the convenience and flexibility you need.
SKS Plastic Boxes
Plastic boxes from SKS provide the perfect storage solution for a variety of small items such as candies, mints, hair accessories, cotton swabs, and more. Our plastic boxes are available in two compact styles both composed of polypropylene plastic. Polypropylene is a durable and lightweight material. The hinged top provides easy access to the contents stored inside and the lid securely closes to keep everything safe.