Plastic Bottles by Color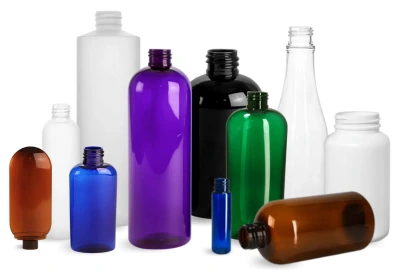 Amber Plastic Bottles
Available in a nice selection of sizes and shapes, including rounds and ovals.
Plastic Bottles, Clear
Let your product's color show with clear plastic bottles in many unique shapes.
Black Plastic Bottles
Choose from several sizes of round black bottles with a variety of closures.
Natural Plastic Bottles
Natural plastic bottles are available in several great shapes including round, cylinder, oval and much more.
Blue Plastic Bottles
Add style to any product line with blue plastic bottles in many shapes & sizes.
Green Plastic Bottles
Available in cosmo and cylinder with many cap & closure options.
White Plastic Bottles
A variety of unique shapes and sizes to fit your packaging needs.
Purple Plastic Bottles
Purchase boston or cosmo rounds in a range of sizes.
Frosted Plastic Bottles
Frosted Plastic Bottles are available in a cosmo round style with various cap options.
Colored Plastic Bottles
SKS Bottle & Packaging offers a wide range of plastic bottles in various colors, including natural, clear, white, blue, green, and amber. Our plastic bottle by color index page allows you to easily browse and select the perfect color for your product packaging needs. Each color offers its own unique benefits, such as natural bottles being great for displaying product purity, blue and green bottles providing UV protection, and amber bottles being ideal for light-sensitive products. With a variety of shapes and materials available in each color category, you can find the perfect bottle to complement and enhance your product's appeal. Whether you are looking to stand out on the shelf or provide functional benefits, SKS Bottle & Packaging's assortment of color options has got you covered.
Chat with Us
Sign up for SKS Emails!