Glass Bottles by Size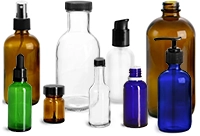 5 ml & 10 ml Glass Bottles
SKS offers 5 ml and 10 ml glass bottles in various colors in the euro dropper bottle style with dispensing closures.
15 ml & 1/2 oz Glass Bottles
Purchase 15 ml and 1/2 oz small glass bottles in various styles, including euro dropper bottles and boston round bottles.
30 ml & 1 oz Glass Bottles
Choose 1 oz and 30 ml glass bottles in vibrant colors with dispensing caps or plastic caps for a wide range of products.
50 ml & 100 ml Glass Bottles
Choose from 50 ml and 100 ml glass spice bottles, euro dropper bottles, and flasks with closures designed to dispense products easily.
2 oz Glass Bottles
Choose from a selection of 2 oz glass bottles in a variety of colors paired with fine mist sprayers, treatment pumps, bulb glass droppers, and more.
4 oz Glass Bottles
SKS provides 4 oz glass bottles in various colors and matched with a variety of closures to package body care products, spa supplies, hair and beard care serums, and much more.
8 oz Glass Bottles
8 oz glass bottles are available in styles, including salad dressing bottles, syrup bottles, boston round bottles, and much more.
12 oz Glass Bottles
Browse clear 12 oz glass bottles in styles that include syrup bottles, sauce bottles, beverage bottles, and more.
16 oz Glass Bottles
16 oz clear and amber glass bottles could showcase various products, including home cleaners, food products, and much more.
Other Glass Bottle Sizes
For unique sizes and styles, browse the specialty glass bottle index, including growlers, perfume bottles, liquor bottles, pharmaceutical rounds, and more.
SKS Glass Bottles
At SKS Bottle & Packaging, Inc., we offer a wide range of glass bottles in different sizes to suit your product packaging needs. Our collection includes small, medium, and large-sized glass bottles, ranging from 5 ml to 1.75 liters, depending on your needs. Our glass bottles are made from high-quality materials and undergo rigorous testing to ensure they meet our strict quality standards. Our glass bottles come in various styles and shapes, including round, square, and oval, making them suitable for use in various industries, including cosmetics, food and beverage, and pharmaceuticals. We understand that product packaging plays a crucial role in product branding and marketing, and that's why we offer a vast selection of glass bottles in different sizes to help you create a unique and distinctive look for your products.

For a full cohesive product line when offering products such as foods, cosmetics, aromatherapy and much more, be sure to purchase glass jars and glass vials to complement your glass bottles.
Chat with Us