Help
Glass Bottles, Clear French Square Glass Bottles w/ Black Phenolic Cone Lined Caps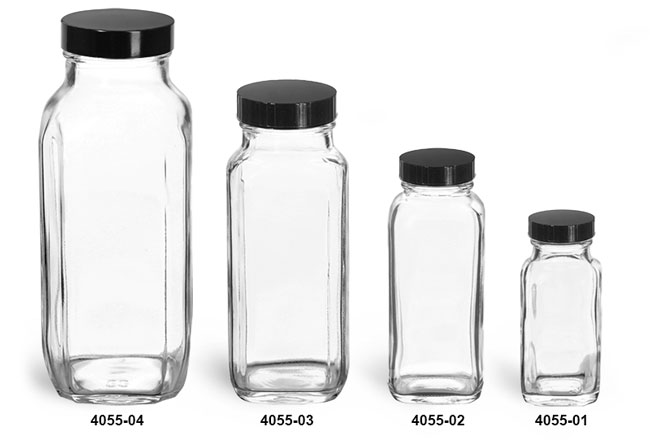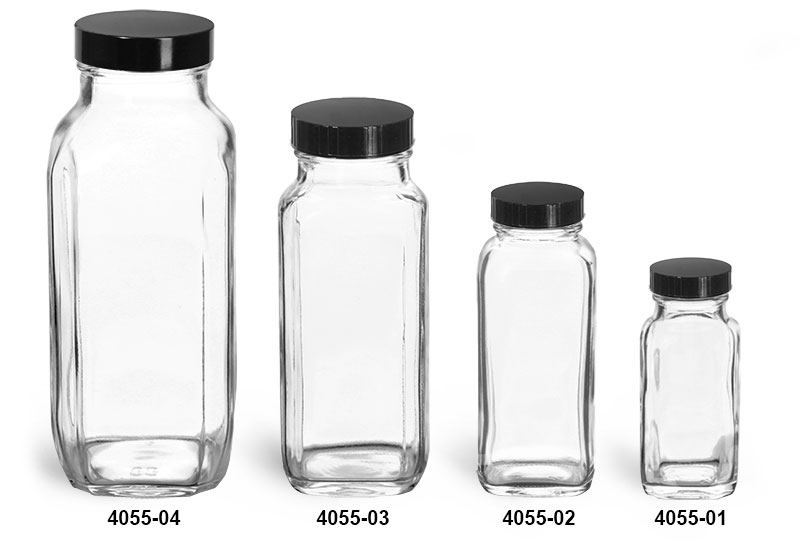 The clear French square glass bottles are available in four sizes, with black phenolic closures. The 2 oz and 4 oz sizes come with cone lined caps, while the 8 oz and 16 oz come with PV lined caps. The wide mouth feature makes for an easy to fill container. Try adding a shrink band to any of these French square bottles for added protection!

* PV Lined Caps
Stock #+
Size
Lgt
Wd

Dims

Hgt

Neck

Finish

Cs

Case

Pk

Prc

Price

/Cs
Qty
Addons

4055-01

View Line Drawing

Out of Stock


(In Stock Approx. TBA)

Order Now to Reserve Inventory

Notify Me When Available

2 oz
39 mm
39 mm
88 mm (H)
39 mm (L)
39 mm (W) 88 mm
28/400
48/cs
$54.72

$54.72

Out of Stock


(Approx. Date in Stock: TBA)



Order Now to Reserve Inventory

Order Now to Reserve Inventory


Notify Me When Available

4055-02

View Line Drawing

Out of Stock


(In Stock Approx. TBA)

Order Now to Reserve Inventory

Notify Me When Available

4 oz
45 mm
45 mm
112 mm (H)
45 mm (L)
45 mm (W) 112 mm
33/400
24/cs
$33.36

$33.36

Out of Stock


(Approx. Date in Stock: TBA)



Order Now to Reserve Inventory

Order Now to Reserve Inventory


Notify Me When Available

4055-03

View Line Drawing

Out of Stock


(In Stock Approx. TBA)

Order Now to Reserve Inventory

Notify Me When Available

8 oz *
56 mm
56 mm
140 mm (H)
56 mm (L)
56 mm (W) 140 mm
43/400
24/cs
$47.28

$47.28

Out of Stock


(Approx. Date in Stock: TBA)



Order Now to Reserve Inventory

Order Now to Reserve Inventory


Notify Me When Available

4055-04

View Line Drawing

Out of Stock


(In Stock Approx. TBA)

Order Now to Reserve Inventory

Notify Me When Available

16 oz *
67 mm
67 mm
170 mm (H)
67 mm (L)
67 mm (W) 170 mm
48/400
40/cs
$117.60

$117.60

Out of Stock


(Approx. Date in Stock: TBA)



Order Now to Reserve Inventory

Order Now to Reserve Inventory


Notify Me When Available
Product Spotlight - Square Bottles
Clear Glass Bottles Only (Bulk)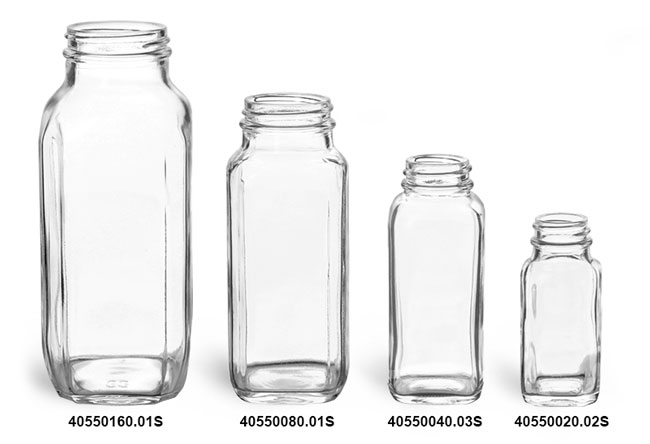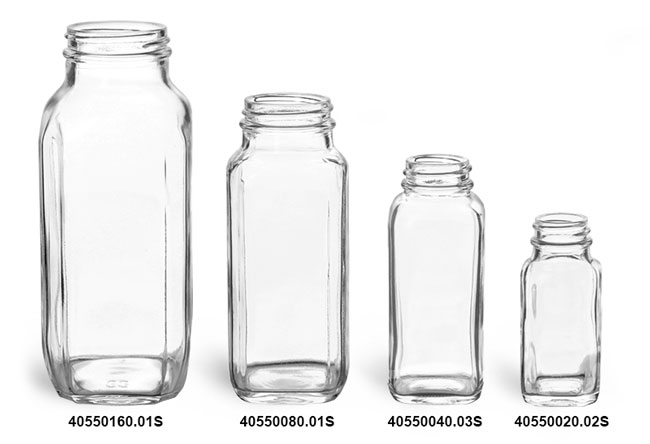 To purchase these glass French square bottles at the best possible price buy them in bulk quantities at wholesale prices. Be sure to choose 'Add-Ons'' to find corresponding caps...
The clear French square glass bottles are available in four sizes, with black phenolic closures. The 2 oz and 4 oz sizes come with cone lined caps, while the 8 oz and 16 oz come with PV lined caps. The wide mouth feature makes for an easy to fill container. Try adding a shrink band to any of these French square bottles for added protection!

* PV Lined Caps
Other Options
Frequently Purchased With...
Creative Ideas
---
Chat with Us
Sign up for SKS Emails!