Hazardous Labels
Show In Stock Hazardous Labels Only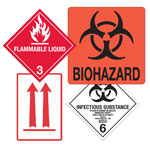 Identify package contents and alert handlers of harmful materials with our hazard labels. A wide range of options is available to indicate health, flammability and reactivity hazards.
The Hazardous Labels in this index have been discontinued. Please view other options below, or return to our Packaging Accessories index.
Other Packaging Accessories Categories
Chat with Us
Sign up for SKS Emails!