Disposable Gloves and Face Masks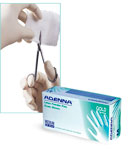 SKS carries a variety of disposable gloves and disposable face masks for your protection. Disposable gloves are available in a variety of materials such as latex, vinyl, and nitrile. Our disposable face masks and gloves could be useful in a variety of fields from medical laboratories and forensic science to cosmetic and toiletry crafting.
Read More...
More Disposable Glove Information:
Sign up for SKS Emails!