Disposable Pipettes & Swabs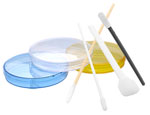 Our disposable pipettes and disposable swabs may be just what you need for your laboratory or crafting studio! The disposable swabs are available in several styles from wood handle cotton swabs to polyurethane enviro swabs with foam heads. Non-sterile disposable pipettes might be convenient for formulating bath and body care products.
Chat with Us
Sign up for SKS Emails!