Lip Balm Accessories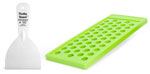 Easily fill up to 50 lip balm tubes at a time with our convenient lip balm filling trays! Three styles of lip balm filling trays are available, accommodating standard size, slim-line or oval lip balm tubes. Each kit includes 24 empty lip balm tubes and a plastic spatula scraper to help get you started. Other lip balm accessories include lanyard strings and colored caps.
Chat with Us
Sign up for SKS Emails!