Help
Metal Caps, White Metal Foil Lined Caps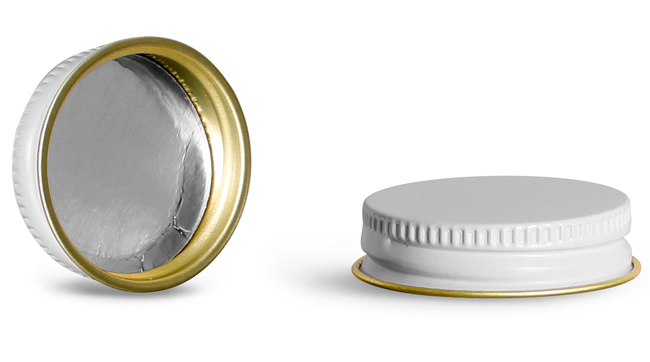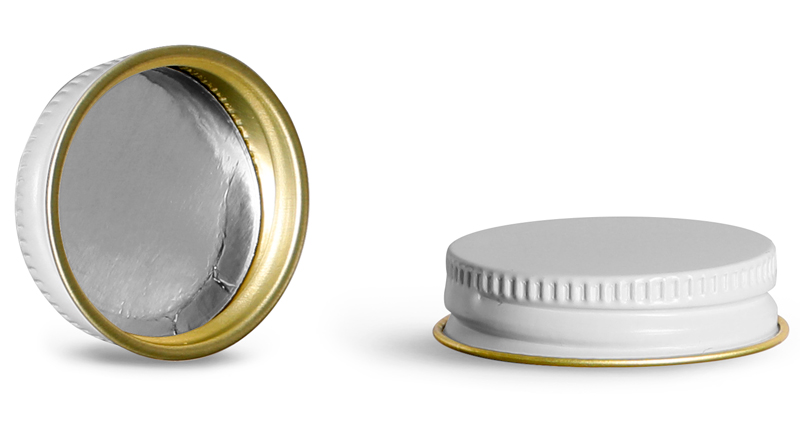 The white metal caps include foil liners providing good barrier properties. For more information on the white metal caps visit our help info section here. The white metal caps are offered in a wide range of sizes, feel free to scroll through to find the perfect size for you!

Minimum order quantity of 6021-17B is 12,000
Stock #+
Size
Cap Code

Cs

Case

Pk

Prc

Price

/Cs
Qty
Addons

6021-01

Out of Stock


(In Stock Approx. TBA)

Order Now to Reserve Inventory

Notify Me When Available

18/400
A
144/bag
$20.16

$20.16

Out of Stock


(Approx. Date in Stock: TBA)



Order Now to Reserve Inventory

Order Now to Reserve Inventory


Notify Me When Available

6021-01B

Out of Stock


(In Stock Approx. TBA)

Order Now to Reserve Inventory

Notify Me When Available

18/400
A
1440/cs
$158.40

$158.40

Out of Stock


(Approx. Date in Stock: TBA)



Order Now to Reserve Inventory

Order Now to Reserve Inventory


Notify Me When Available

6021-01B1

Out of Stock


(In Stock Approx. TBA)

Order Now to Reserve Inventory

Notify Me When Available

18/400
A
11300/cs
$1,130.00

$1,130.00

Out of Stock


(Approx. Date in Stock: TBA)



Order Now to Reserve Inventory

Order Now to Reserve Inventory


Notify Me When Available

6021-02

Out of Stock


(In Stock Approx. TBA)

Order Now to Reserve Inventory

Notify Me When Available

20/400
B
144/bag
$20.16

$20.16

Out of Stock


(Approx. Date in Stock: TBA)



Order Now to Reserve Inventory

Order Now to Reserve Inventory


Notify Me When Available

6021-02B

Out of Stock


(In Stock Approx. TBA)

Order Now to Reserve Inventory

Notify Me When Available

20/400
B
1440/cs
$158.40

$158.40

Out of Stock


(Approx. Date in Stock: TBA)



Order Now to Reserve Inventory

Order Now to Reserve Inventory


Notify Me When Available

6021-02B1

Out of Stock


(In Stock Approx. TBA)

Order Now to Reserve Inventory

Notify Me When Available

20/400
B
9200/cs
$920.00

$920.00

Out of Stock


(Approx. Date in Stock: TBA)



Order Now to Reserve Inventory

Order Now to Reserve Inventory


Notify Me When Available

6021-03
22/400
D
144/bag
$21.60

$21.60

6021-03B
22/400
D
1440/cs
$172.80

$172.80

6021-03B1

2 cases in stock. Order Soon!

22/400
D
8000/cs
$880.00

$880.00

6021-04
24/400
E
144/bag
$21.60

$21.60

6021-04B
24/400
E
1440/cs
$172.80

$172.80

6021-04B1

Out of Stock


(In Stock Approx. TBA)

Order Now to Reserve Inventory

Notify Me When Available

24/400
E
6000/cs
$720.00

$720.00

Out of Stock


(Approx. Date in Stock: TBA)



Order Now to Reserve Inventory

Order Now to Reserve Inventory


Notify Me When Available

6021-05

Out of Stock


(In Stock Approx. 11/30/21)

Order Now to Reserve Inventory

Notify Me When Available

28/400
H
144/bag
$23.04

$23.04

Out of Stock


(Approx. Date in Stock: 11/30/21)



Order Now to Reserve Inventory

Order Now to Reserve Inventory


Notify Me When Available

6021-05B

Out of Stock


(In Stock Approx. TBA)

Order Now to Reserve Inventory

Notify Me When Available

28/400
H
1440/cs
$216.00

$216.00

Out of Stock


(Approx. Date in Stock: TBA)



Order Now to Reserve Inventory

Order Now to Reserve Inventory


Notify Me When Available

6021-05B1

Out of Stock


(In Stock Approx. 11/26/21)

Order Now to Reserve Inventory

Notify Me When Available

28/400
H
4600/cs
$460.00

$460.00

Out of Stock


(Approx. Date in Stock: 11/26/21)



Order Now to Reserve Inventory

Order Now to Reserve Inventory


Notify Me When Available

6021-06
33/400
J
144/bag
$33.12

$33.12

6021-06B
33/400
J
3400/cs
$544.00 $476.00

$476.00


On Special

6021-07

Out of Stock


(In Stock Approx. TBA)

Order Now to Reserve Inventory

Notify Me When Available

38/400
K
144/bag
$28.80

$28.80

Out of Stock


(Approx. Date in Stock: TBA)



Order Now to Reserve Inventory

Order Now to Reserve Inventory


Notify Me When Available

6021-07B

Out of Stock


(In Stock Approx. TBA)

Order Now to Reserve Inventory

Notify Me When Available

38/400
K
3800/cs
$532.00

$532.00

Out of Stock


(Approx. Date in Stock: TBA)



Order Now to Reserve Inventory

Order Now to Reserve Inventory


Notify Me When Available

6021-10B
48/400
O
2300/cs
Email for Quote

6021-11

Out of Stock


(In Stock Approx. 11/30/21)

Order Now to Reserve Inventory

Notify Me When Available

53/400
P
144/bag
$48.96

$48.96

Out of Stock


(Approx. Date in Stock: 11/30/21)



Order Now to Reserve Inventory

Order Now to Reserve Inventory


Notify Me When Available

6021-11B

Out of Stock


(In Stock Approx. 11/26/21)

Order Now to Reserve Inventory

Notify Me When Available

53/400
P
1900/cs
$494.00

$494.00

Out of Stock


(Approx. Date in Stock: 11/26/21)



Order Now to Reserve Inventory

Order Now to Reserve Inventory


Notify Me When Available

6021-12
58/400
Q
144/bag
$69.12

$69.12

6021-12B
58/400
Q
2000/cs
$700.00

$700.00

6021-13B
63/400
R
1700/cs
Email for Quote

6021-14B
70/400
S
1500/cs
Email for Quote

6021-17B
110/400
X
Email for Quote
Product Spotlight - Lined and Unlined Metal Caps
The white metal caps include foil liners providing good barrier properties. For more information on the white metal caps visit our help info section here. The white metal caps are offered in a wide range of sizes, feel free to scroll through to find the perfect size for you!
Minimum order quantity of 6021-17B is 12,000
Other Options
Frequently Purchased With...
---
Chat with Us
Sign up for SKS Emails!