Black

Plastic Jars Show In Stock Black Plastic Jars Only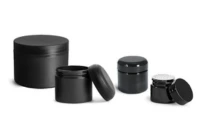 Choose from high quality black plastic jars in a variety of sizes and packaging options. These black plastic jars are durable, versatile, and provide a bold, high-contrast look to make your product line stand out. Consider our black polypropylene jars, or eco-friendly PCR and PIR black plastic options. Read more about the benefits of these jars in our Black Plastic Containers Product Spotlight! Select any black plastic jar image shown below to buy black plastic jars with lids, and view the size options, product details, compatible add-on items and more.
Chat with Us
Sign up for SKS Emails!