Aromatic Extracts
Martha Stewarts Handmade Gifts
Use our Glass French Square bottles with aluminum caps for packaging your homemade baking extracts. Featured in the December issue of
Martha Stewart Living
magazine, these bottles may be perfect for making extract samples to give as gifts for friends and family. Make Vanilla, Almond or Citrus extracts and "infuse your friends' homes and homemade desserts with your handiwork." Give these bottles a personal touch by adding a custom label with the giftee's name and extract type making these truly a one-of-a-kind gift.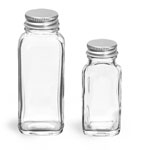 Purchase the
Martha Stewart Living
magazine and get a special offer for
$10.00 off your order of these Glass French Square Bottles!
The magazine also gives directions on how to make these beautiful extracts to give as thoughtful, useful gifts for your friends and family. At SKS we offer many other bottle options which would be perfect for making gifts for the holidays or for other special occasions. Click
here
to order your bottles today!
For more information about this project, please visit www.marthastewart.com

See the links below for more great gift ideas