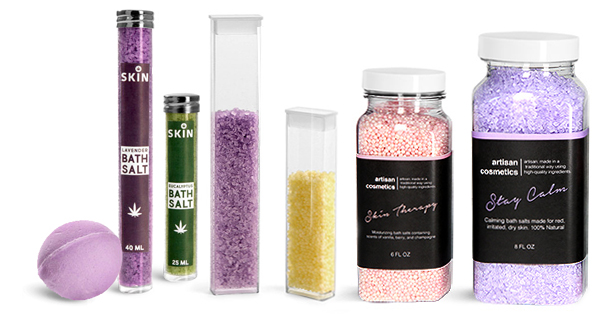 Product Spotlight - Bath Products
Plastic Bath Salt Containers
SKS carries plastic bath salt containers, including clear plastic bottles, plastic jars, and plastic tubes, in a variety of styles and sizes to create a unique product line. Think outside of the box with options like our beverage style bottles or woozy bottles for packaging bath salts.
Plastic Bottles & Plastic Jars for Bath Salt Containers
Clear PET plastic bottles and jars offer features that make them a top choice when packaging bath products. PET provides good moisture and oxygen barriers, while also offering high impact resistance, as well as resistance to heat, dilute acids, oils, and alcohols. Clear PET plastic containers also provide excellent clarity.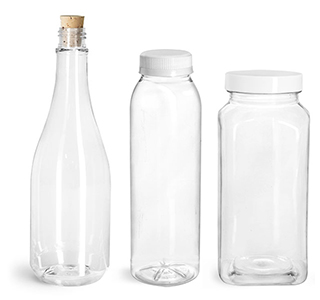 SKS offers woozy bottles, round beverage style bottles, and square bottles for a unique bath salt container option. These styles create an eye-catching appearance, while also providing strong durability. Consider small volume clear
cosmo round bottles
or
wide mouth rounds
with ribbed plastic caps for bath salt samples or amenities.
SKS carries a wide variety of
clear plastic jars
for packaging a selection of bath products. Clear
heavy wall jars
have wide openings, for easy dispensing with a spoon or scoop. The heavy wall jars include a thicker, stronger base and walls compared to standard straight-sided plastic jars, which helps prevent moisture from reaching the product inside. Square PET
wire bale jars
include hinged lids with a rubber ring that compresses and creates an airtight seal when the wire handles are in their fully closed position. Opt for clear PET
Tuscany jars
with the choice of black smooth or dome plastic caps. The Tuscany jars feature a tapered opening that is large enough to easily access bath products and are compatible with a variety of closures.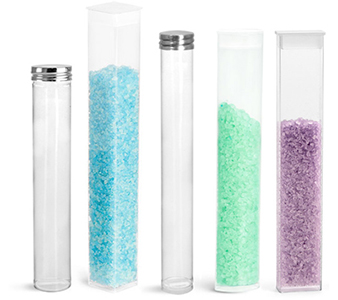 SKS offers clear propionate plastic tubes for smaller volumes of bath products. Propionate plastic is impact resistant and provides high clarity. These plastic tubes are compatible with threaded silver metal caps or natural plugs. Bath salt tubes can be used to package gift sets, promotional samples, and more. Be sure to browse our additional
bath salt containers
and to test any selections with your product to confirm compatibility.
Purchase Bath Products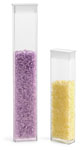 Clear Propionate Rectangular Tubes w/ Natural LDPE Plugs
Chat with Us
Sign up for SKS Emails!