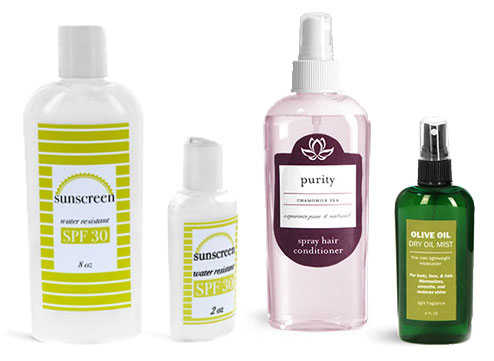 Product Spotlight - PET Cosmo Ovals
Cosmo Ovals for Skincare Products
Clear and green cosmo ovals could be a good choice in skincare packaging for products that could include lotions, sunscreens, and more. With a wide selection of sizes paired with a variety of dispensing caps, our cosmo ovals could be used to provide samples, hotel amenities, and on the go sizes, while also creating a full skincare product line.
Clear & Green Cosmo Ovals for Skincare Products
When packaging skincare products, easy dispensing and convenient storage is a top priority. Clear and green cosmo ovals provide a shape that is easy to hold during application, while requiring minimal storage space with their sleek, oval bases.
Disc top caps are a top choice in closures when packaging lotions and creams, offering a clean, controlled dispensing method. Composed of durable plastic and available in a range of colors, disc top caps easily dispense products with thicker viscosities. To dispense, simply press the indented section of the disc top caps embossed with the word "Press", causing the caps to flip up, and exposing the orifice. After dispensing, press the raised side of the caps down to securely store products until the next use.
Cosmo Ovals with Disc Top Caps:
Lotion pumps, treatment pumps, and fine mist sprayers paired with cosmo ovals could provide a high end look, as well as a smooth application method for a variety of skincare products. Choose high clarity clear cosmo ovals to provide multi level branding. This eye catching option could showcase the color of the products against the unique design of your labels. When an extra level of protection is needed, green cosmo ovals also offer UV protection for light sensitive products that may include calming lotions infused with essential oils.
Cosmo Ovals with Dispensing Caps:
Clear ovals with white pumps
Our white and black lotion pumps dispense .5 ml per stroke and include a locking mechanism for security during shipment and storage. Gently turn the pump head in one direction to lock closed, and in the opposite direction to open. White and black treatment pumps produce an output of .25 cc per pump, with locking mechanisms to reduce unwanted discharge.
Fine mist sprayers include clear styrene hoods for added protection, and can be used to cleanly apply liquid skincare products such as tanning sprays. Each spray from the dispenses .14 ml to .16 ml for controlled applications. Choose from the wide variety of
cosmo ovals
SKS has to offer for your skincare and bath and body care products to showcarse your product line in style. SKS highly suggests testing your skincare products to ensure complete compatibility.
Purchase PET Cosmo Ovals


Green Cosmo Oval Bottles w/ White Fine Mist Sprayers
Chat with Us
Sign up for SKS Emails!