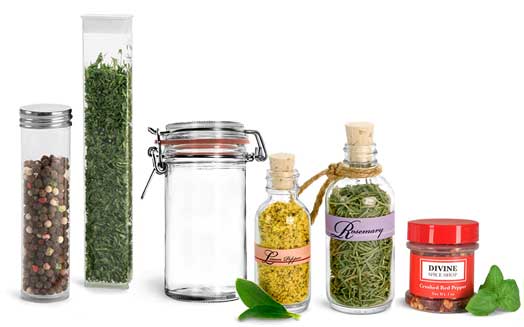 Product Spotlight - Spice Containers
Plastic and Glass Spice Containers
SKS offers clear glass and plastic spice containers in a range of styles and sizes, with a variety of dispensing options. The high clarity showcases vibrant spice blends, and great durability allows these containers to be used frequently and stored securely. SKS also offers bulk spice containers to ensure busy restaurants and caterers always have the stock they need.
Glass Spice Containers
SKS offers stylish glass spice jars and bottles for storing dried herbs, spice blends, and more. Clear glass spice containers are a top choice due to the impermeability of glass and are considered Generally Recognized as Safe (GRAS) by the Food and Drug Administration (FDA).
Clear glass wire bale jars
with hinged lids include a rubber ring attached to the glass lids, alongside metal hinges, that create an airtight seal when closed. The durable and secure seal assists with keeping spices fresh longer.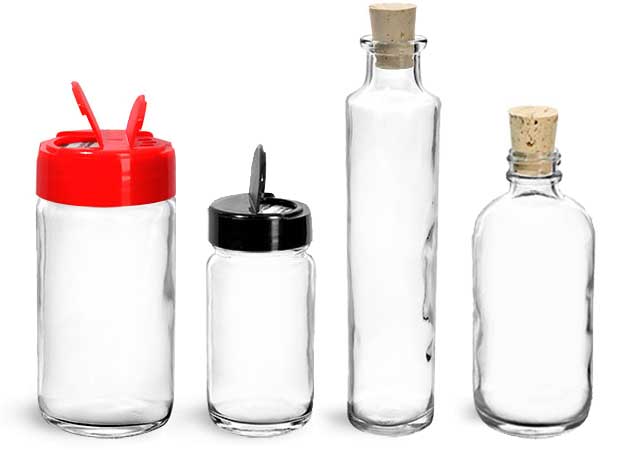 Clear glass paragon jars with black or red spice caps offer easy dispensing options for products. The PS113 lined spice caps feature the words "Sealed for Freshness" printed on the liners and are applied easily with no machinery needed. Simply fill the spice jars, clean the rim, and close the spice caps tightly to the jars. Leave the spice caps in place for roughly 24 hours for the PS113 liners to adhere to the spice jars. The smaller spice caps include one single side opening for pouring and the larger size caps include two openings, one with three holes for sifting and another for pouring.
Packaging spices in clear glass bottles with corks offers a unique, eye-catching look. Cork stoppers are composed of eco-friendly material that fits snug into the neck of the bottles. Spice bottles with corks, from 1/2 oz up to 16 oz, could be used for spice gift sets or for more substantial quantities of commonly used spices, including Himalayan pink salt, Italian seasoning blends, and more.
Plastic Spice Containers
Choose from an extensive range of clear plastic jars, bottles, and tubes, ideal for packaging spices. Natural polypropylene
spice jars
include cap and sifter options to fit your needs. Choose from white or red unlined plastic caps, with or without sifter fitments, to achieve the desired look and function for your product. The sifter caps have 11 holes with a 3 mm diameter, which allows these spice jars to easily dispense seasonings and rubs.
Square wire bale jars
are composed of PET and can be used to package spices, blends, and dry rubs in 5 oz, 7 oz, and 13 oz capacities. Lids for the clear plastic wire bale jars feature a rubber ring, which provides a tight seal and helps to preserve dried herbs during storage.
Clear PET grip, round, or square spice bottles are highly durable, impact resistant, and offer a moisture barrier to assist with keeping products fresh. All of SKS' plastic spice containers are BPA free and FDA approved for packaging food.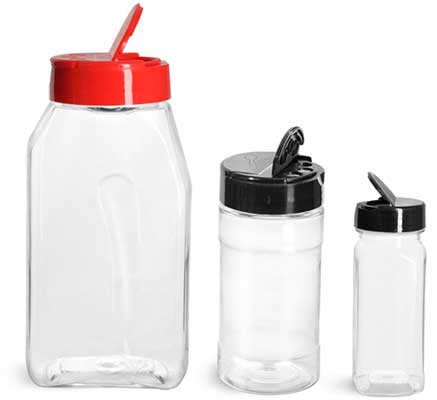 Plastic Spice Bottles:
Square spice bottles with red or black caps
The red and black spice caps are composed of polypropylene and feature PS113 liners with the words "Sealed for Freshness" printed on the top. The 38 mm size spice caps include a hole for pouring on one side. The larger spice cap sizes include two dispensing options; one side has a half circle opening for small spoons or pouring, while the other side has three sifter holes with a .3" diameter. To apply the PS113 liners, fill the spice bottles, wipe the rim of the bottles to ensure they are clear of any product, screw the spice caps into place, and leave in place for roughly 24 hours.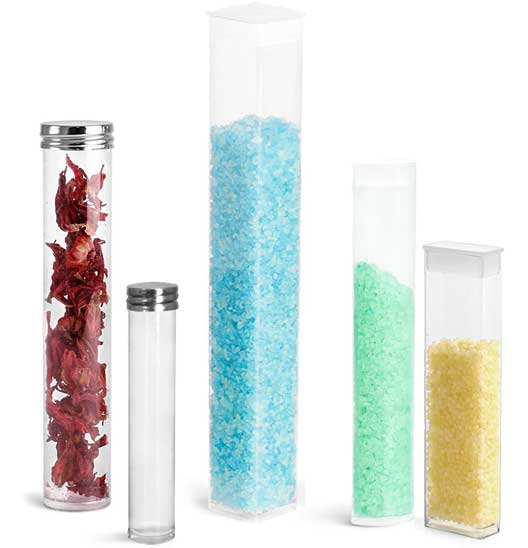 Plastic Spice Tubes:
Square or round tubes with HDPE plugs
Oval tubes with HDPE plugs
Rectangular tubes with LDPE plugs
SKS offers clear flex tubes with silver screw caps or natural plugs that could be a great addition to your product line. Clear propionate plastic tubes are great for packaging smaller volumes and displaying brightly colored spices.
Propionate plastic is clear, FDA approved, impact resistant, and durable. Silver metal screw caps provide a shiny accent to these clear propionate plastic tubes and are available unlined or with pulp/vinyl liners. Plastic plugs provide a snug seal and are easy to match with other spice container styles.
Want even more options and ideas? Be sure to browse our index of
food containers
for other glass, plastic, and metal options. We highly recommend testing your packaging choices with your products to ensure compatibility. Feel free to contact our Customer Care team with any questions you may have.
Purchase Spice Containers
Chat with Us
Sign up for SKS Emails!