Product Spotlight - Clear Glass Jelly Jars
SKS Bottle carries a variety of clear glass jelly jars in many unique shapes, paired with plastisol lined metal caps. These glass jars could be used to create an attractive and functional packaging option for jellies, jams, and other delicious spreads!
Clear Glass Jelly Jars with Metal Lug Caps
SKS offers clear glass hexagon jars that offer a great way to package jellies and other fruit preserves. The clear glass hexagon jelly jars feature an angular, hexagonal shape with six equal sides, providing ample space for custom labeling and decoration. These jelly jars are available in a range of sizes with metal plastisol lined lug caps to create a unique packaging look.
Hexagon & Oval Hexagon Jars:
Hexagon jelly jars with gold caps
Hexagon jelly jars with silver caps
Hexagon jelly jars with red caps
Hexagon jelly jars with black caps
Clear glass oval hexagon jars with
black
or
gold
metal caps have a few design features that differentiate them from standard hexagon jars. These jelly jars feature oval bases with a textured treatment for additional stability while storing or displaying on store shelves. These convenient glass jars have wide front and back panels with two narrower side panels for distinct labeling.
Classic 8 oz clear glass jelly jars are tall, with wide openings, and can be paired with both unlined metal caps and various plastisol lined metal caps.
Purchase these clear glass jelly jars in bulk and choose your desired metal caps separately. Buying in bulk is not only more cost effective; it also allows the same jar style to be combined with multiple metal cap options to create packaging for various flavors or themed sets.
Consider red plastisol lined metal caps for holiday preserves or spicy spreads. Single or two-piece silver and gold plastisol lined caps bring a classic packaging look to jellies and jams. Bronze metal caps offer a unique twist for packaging sweet spreads and candies.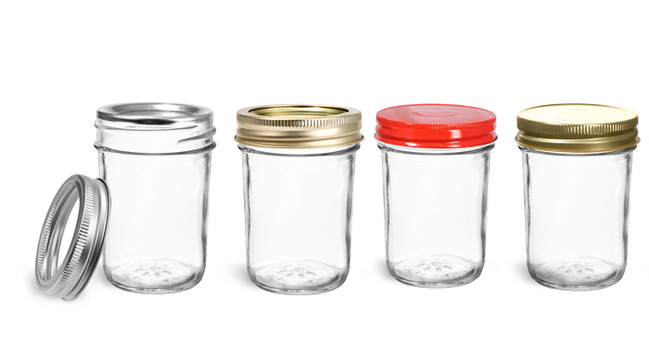 Small capacity
clear glass jelly jars
, paired with gold metal lug caps, offer a simple, attractive packaging solution for product samples and gift basket sets. The gold metal lug caps include plastisol liners, which are used to effectively lock in freshness when packaging jellies, preserves, spreads, and much more.
Unique wide mouth tapered jars are compatible with a range of metal lug caps and offer a look that is different from standard straight sided glass jars. The tapered glass jars feature a sturdy base that broadens to a wider opening, providing easy access to the products within.
Wide Mouth Tapered Jars:
Wide mouth jelly jars with white caps
Wide mouth jelly jars with black caps
Wide mouth jelly jars with gold caps
Wide mouth jars paired with
black
,
red
,
silver
or
gold
metal lug caps offer a more classic packaging style. The metal lug caps feature plastisol liners, which are used during various canning and preserving methods to create a hermetic seal for storing food products. The plastisol liner begins as a solid liner within the caps. As it is heated, the liner becomes softened and pliable. When the liner cools, it solidifies and begins to create an airtight, tamper evident seal, which can extend the shelf life of your products when applied correctly.
SKS carries many versatile styles of clear glass jelly jars to attractively showcase and preserve your products. Be sure to thoroughly test your products and packaging process with these jelly jars to ensure proper compatibility. Explore our
Canning Jars
index to view even more options.
Purchase Clear Glass Jelly Jars
Chat with Us