Label Specifications & Information
Labels
Glossy finish
Base paper stock 2.5 mil in thickness (1 mil = 0.001 inch = 25.4 µm)
Over laminate 1 mil in thickness (1 mil = 0.001 inch = 25.4 µm)
4 color printing
PDF proofing
3" diameter Core
Uploading Label Artwork - Requirements
Minimum of 300 DPI
Supported file types:

Adobe Illustrator (AI) CS5 or earlier version
Print Ready PDF *

Images: Embed all images used in producing your artwork
Fonts: Convert all fonts to outlines
* PDF Requirements:

Save as "press quality" PDF
All PDF's should contain 300 DPI images
Should be saved w/ NO compression
Use only CMYK or spot colors
Do not use or embed color profiles
Use our PDF Label Templates for Perfect Size & Formatting
Rectangle Label Templates:
Circular Label Templates:
Specialty Label Templates:
Label Unwind Direction
You are able to select your unwind direction when purchasing a label from our shopping cart. If you're applying your labels by hand, wind direction is not crucial. Unwind Direction matters most when using machinery. If you are using machinery the unwind direction you select needs to match what your machinery accepts and can work with. Our
label dispensers
can only be used with wind directions 1 - 4. For label orders where we will be applying the labels at SKS, we prefer to use wind direction 3 with our equipment.
Below are the eight common label wind directions:
Wound OUT


Top of Copy Dispenses First wound out

Bottom of Copy Dispenses First wound out

Right Side of Copy Dispenses First wound out

Left Side of Copy Dispenses First wound out
Wound IN


Top of Copy Dispenses First wound in

Bottom of Copy Dispenses First wound in

Right Side of Copy Dispenses First wound in

Right Side of Copy Dispenses First wound in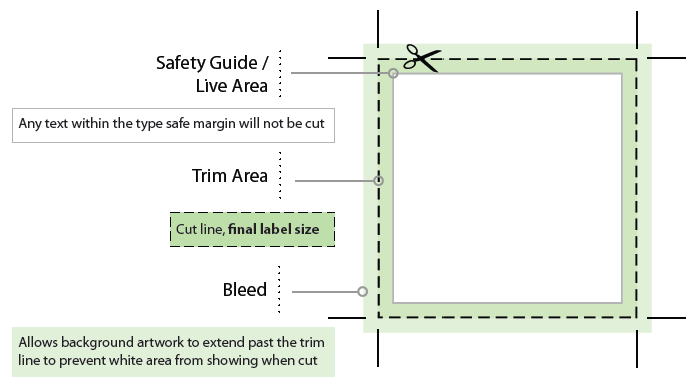 Design Tips for best results
Use CMYK color mode
CMYK (cyan, magenta, yellow & key [black]) is a subtractive color model, meaning an ink color is determined by the light wavelengths it absorbs (subtracted) and the wavelengths it reflects (the color you see). RGB (red, green, blue) is an additive color model, which creates colors from light emitted directly from a source, such as your computer monitor. You will be able to use much brighter colors in the RGB color mode, but when converted to CMYK for print, these colors will become much duller. This is because paper and ink can only reflect light, not generate it. Therefore, create your artwork in CMYK color mode for the most accurate results.

Convert text to outlines
This ensures that your font will be rendered exactly as you want it. If our programs do not support the font you used in your design, it will be replaced with a default font. In Illustrator, you can outline your text by selecting the layer and Object > Expand from the toolbar.

First Proof free of charge, Additional Proof Pricing
Additional proofs $50 each