The Packaging Rap

SKS Bottle & Packaging Newsletter
---
Highlighting 2020 New Features
January 2021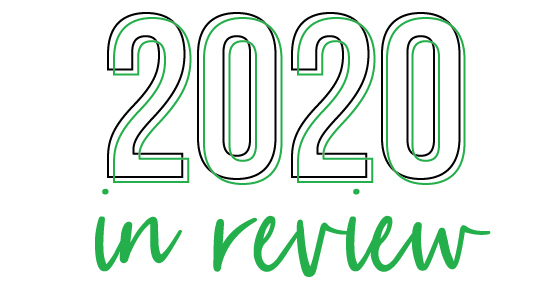 In 2020, SKS has improved and expanded their ever growing E-Commerce site through adding new online features, while remaining fully operational as an "essential business" during the COVID-19 pandemic.
---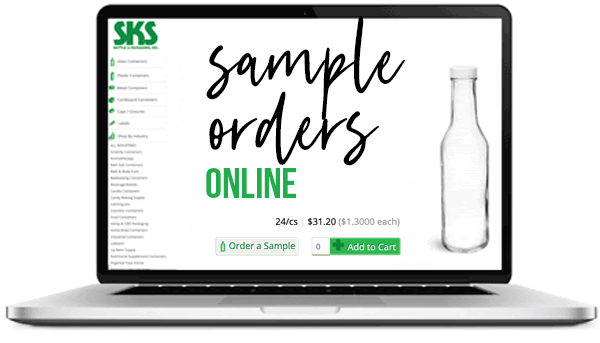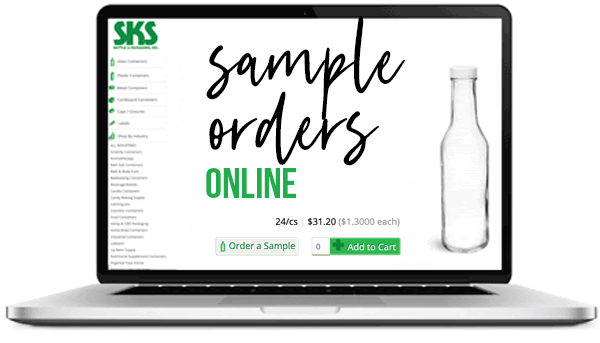 In January 2020, SKS began offering free product samples through a convenient online sample ordering process. Ordering samples is a great way to test out our containers with your product before ordering a larger case, ensuring product compatibility and the look you are going for. Any item displaying an "Order a Sample" button on its product detail page, can be added to a sample order. Customers may order up to 3 sample items per order but are limited to only 1 sample of each unique item. Customers ordering only samples without any other full cases will be charged a small fee, based on the individual weights of the sample items, to cover the cost of processing and shipment. If an order contains full cases of other items in addition to samples, no additional shipping charge is added on for the samples. Sample orders for members of our Customer Loyalty Program always ship free of charge!
---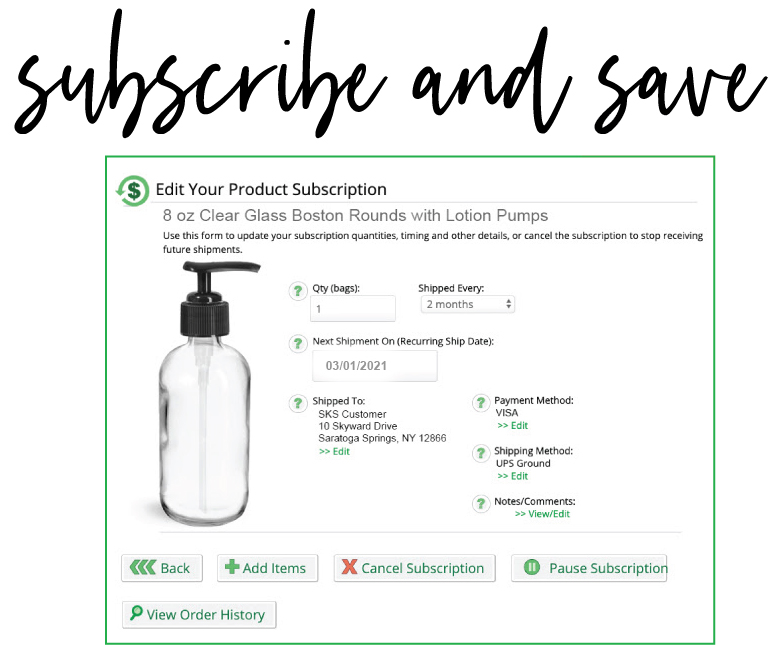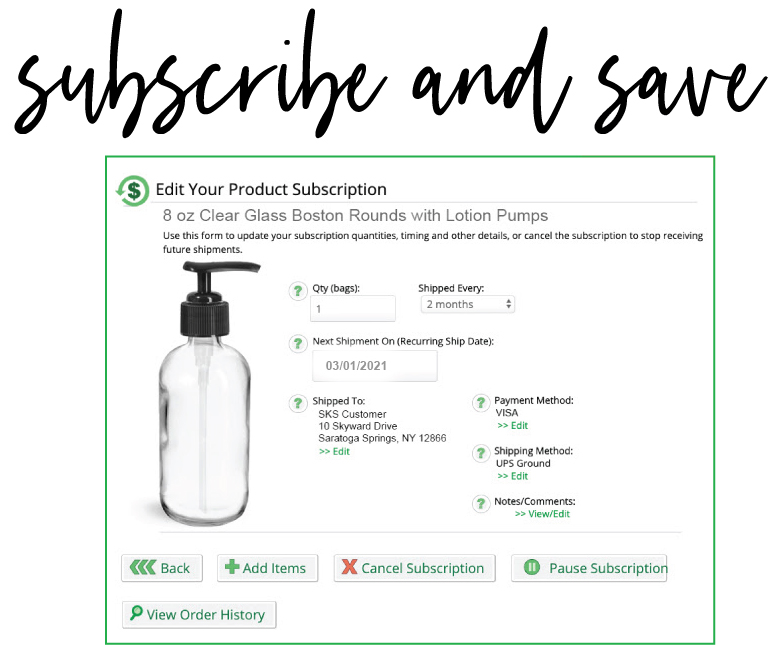 In March of 2020, SKS launched a subscription program that allows customers to save time through pre-scheduled orders, receive guaranteed in stock inventory for their items after 2 or more months of an active subscription, and save money with an automatic 5% discount. Almost any item on our site can be added as a new subscription item from our convenient Product Detail pages. Creating a new subscription is as simple as choosing a quantity and monthly interval for shipments, and completing your first order. All following orders will be created automatically and shipped out on the day customers choose, using the payment method and other details that are already on file. Customers receive email notifications on any upcoming shipments and each time a new order is created in our system. Subscriptions can be easily managed through a convenient form in our customer account area. There is no commitment or obligation with the Subscribe & Save Program. Subscriptions can be easily canceled or paused at any time, and reactivated with the click of a button as needed. As a convenient bonus to this system, after 2 consecutive months of an active product subscription without modification to the amount or timing, we can predict the quantities and dates when products are needed. This means that we can work towards ensuring the availability of subscription items, without backorders and delayed shipments.
---


In November 2020, SKS added help links to pages on the site in areas where customers are most likely to have questions. Look for the question mark icon to the right of the heading on any page and click to open a pop-up window with tabs of help content related to that page. If there is more than one section, you can click the tabs to switch between topics. The same content has also been organized into a new Help/Information index. This brings all of the help content together in one location, and also allows help content to be searched by keyword. For example, you can enter "loyalty" and bring up all help content related to the Customer Loyalty Program. Pages that currently have this feature include those in the Members Area, Account and Log In, Customer Loyalty Program, Ordering, and Checkout. We also plan to expand this helpful new feature into product indexes to offer product ordering information by product type, style, and material.
---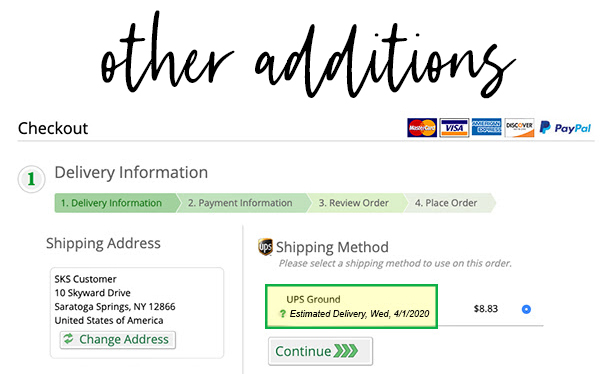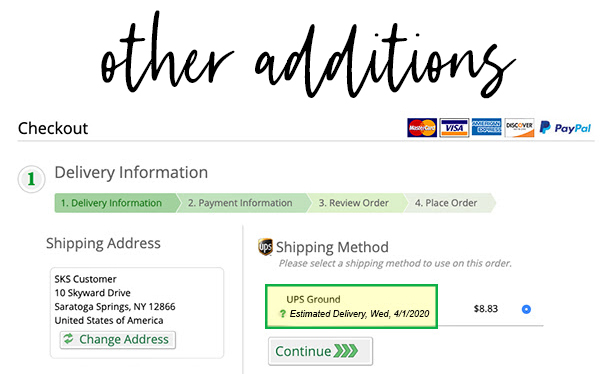 SKS has added several other features to the E-Commerce site in 2020 to improve the customer experience. We created the option to add up to 5 sub-users to customer accounts so companies and partners are able to more efficiently manage order history, product subscriptions, and view order status and tracking all in one place.
An improvement to order status information was also made on the website, so customers are now able to see more detailed updates on the progress of open orders from the order history area. We also rolled out a new website feature to improve ordering experience by simplifying credit card payments. SKS now charges the full order amount at the time of the first shipment. If orders contain multiple shipments, no additional charges are added to the account after the first shipment.
Finally, we also introduced product reviews to aid in the customer purchasing process. While browsing product detail pages, shoppers are now able to read reviews written by customers who have previously purchased an item.
---
Packaging Tip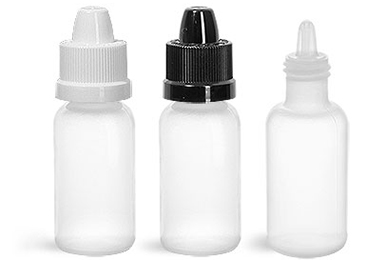 LDPE Bottles
Integrate bottles made from flexible LDPE plastic into your product line to help dispense a wide range of products, including sauces, syrup, paint, glue, and much more. LDPE is a low-density version of polyethylene. LDPE is not as hard, stiff, or strong in comparison to HDPE, making it easily squeezable. LDPE has many physical properties that make it ideal for packaging. These characteristics include good resistance to chemicals and a good vapor barrier. LDPE also tends to be stress crack resistant and lightweight. Choose natural LDPE narrow mouth bottles with screw caps for a leak-proof, no-drip packaging option. These plastic bottles also feature a superior double seal closure and pour lip. Try natural LDPE oval bottles, which are squeezable and feature twist top caps. Twist the top part of the cap open to allow for dispensing and twist closed for storage. Additionally, consider LDPE dropper bottles with streaming dropper plugs and white caps when packaging products, such as food coloring, pigments, or eye drops. The natural streaming dropper plugs are perfect for dispensing small volumes of liquid with minimal flow and the white polypropylene unlined dropper tip caps protect contents from spillage when not in use.
---
Product of the Month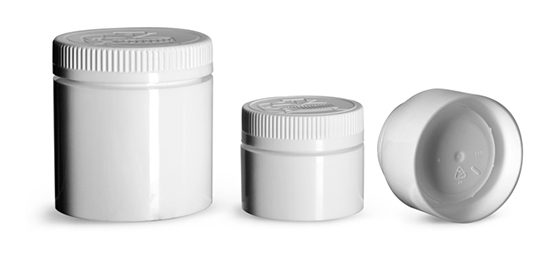 Polypropylene Open Bottom Jars w/Child Resistant Caps
Polypropylene open bottom jars with child resistant caps feature a two-layer construction, similar to double wall jars. The polypropylene plastic jars are opaque and provide protection against UV rays, have strong barriers against moisture, and offer excellent impact resistance and durability. The child resistant caps include PE liners, which are all-purpose liners that help with product preservation. A universal picture is embossed on the tops of the child resistant caps depicting opening instructions. The jars are available in a 1.5 oz and 6 oz size and in white or black polypropylene plastic. Choose these plastic jars with child resistant caps for packaging products, such as pharmaceuticals, CBD infused body care products, nutraceuticals, and more.