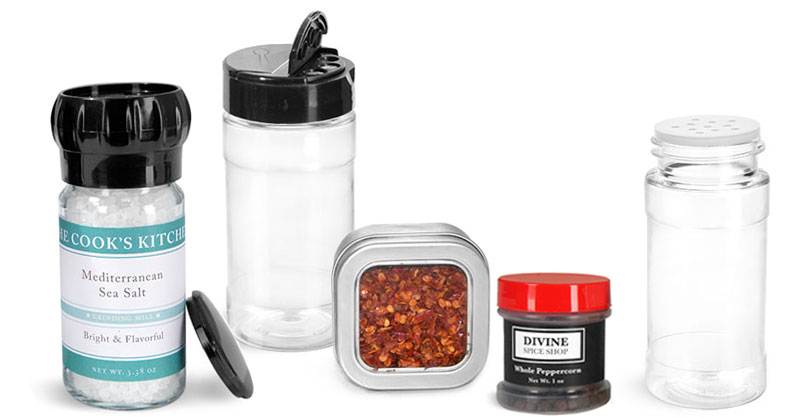 Top 5 Spice Containers
SKS' Most Popular Choices in Spice Bottles & Jars
Spice containers are available in plastic, glass, and metal selections that stylishly store spices, herb blends and seasonings with convenient dispensing options. SKS showcases here our top five best selling ideas to assist in your purchase of spice jars, bottles, and tins. For even more ideas and information on these containers, be sure to read the spice container newsletter and product spotlight!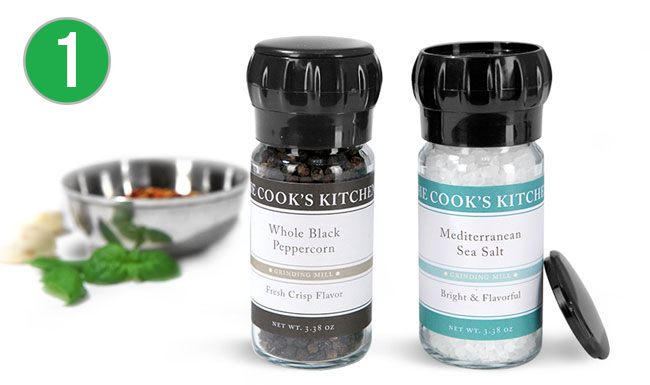 Glass Spice Bottles with Spice Grinders
---
This elegant clear glass bottle with matching easy grip spice grinder caps is a top seller in spice containers. The convenient all plastic grinder caps are capable of finely grinding coarse spices and seasoning blends, with a reduction in clogging and waste. These glass spice bottles could provide a high end appearance for a range of spice products.
Purchase Glass Spice Bottles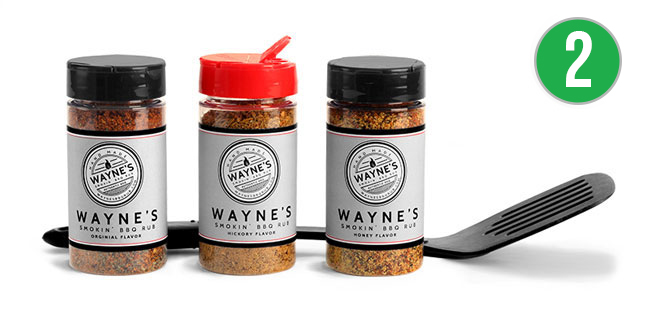 8 oz Clear Spice Bottles with Sifter Caps
---
Clear PET spice bottles in a straight sided, cylindrical style come with black or red spice caps and include convenient features that make them a top choice for dispensing spices. These plastic spice bottles include indented labeling areas and sturdy bases for storage. The spice caps feature double sided dispensing options with one side offering three holes, and the other a wide, crescent-shaped opening for dispensing with a spoon. The spice caps also include PS113 liners printed with "Sealed For Freshness" on their tops, adding a tamper evident seal to keep your spice blends fresh.
Buy 8 oz Plastic Spice Bottles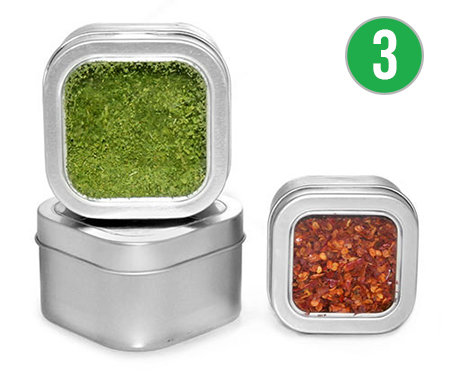 Square Metal Tins with Clear Covers
---
Square shaped metal tins in 4 oz and 8 oz sizes can be effective for showcasing spices and seasonings, with clear top covers that provide a view of the products within while the tins remain sealed. The FDA approved, highly corrosion-resistant construction of these tin plated steel spice tins uniquely allows the packaging of herbs as well as spices.
Purchase Metal Spice Tins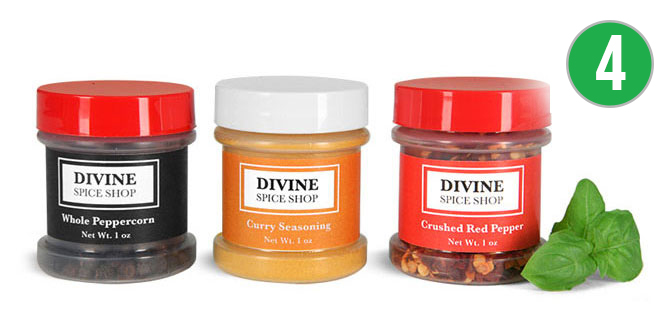 Spice Jars with Sifters & Spice Caps
---
In a shorter style, choose 1 oz capacity natural plastic spice jars with options including sifter caps and white or red plastic caps. The spice jars include indented labeling areas and a semi-transparent look, offering an ample labeling area while also allowing your customers to see how much of your product they have left.
Buy Spice Jars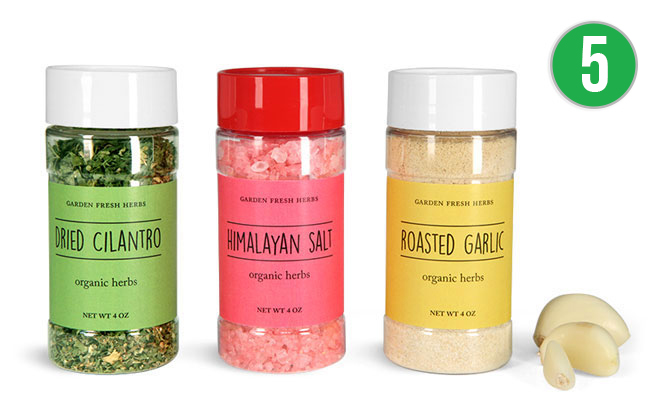 4 oz Spice Bottles w/ Sifters & Spice Caps
---
To match our
8 oz spice bottles
, choose a 4 oz capacity in the same style and offer a separate dispensing option for each type of spice and seasoning within your product line. The 4 oz plastic spice bottles include white or red plastic unlined caps with matching sifter fitments. The sifters snap securely into place and remain secure when shaking the spice bottles during cooking and food preparation.
Purchase Clear Spice Bottles
You May Like
Chat with Us
Sign up for SKS Emails!