Plastic Boxes & Cardboard Boxes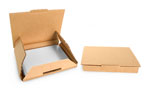 Ideal for storage, organization and mailing, our plastic and cardboard boxes could be suitable for a variety of tasks. Try using these cardboard and plastic storage boxes for anything from organizing office and workbench supplies to sending CDs and other media in the mail.
Read More...
Sign up for SKS Emails!