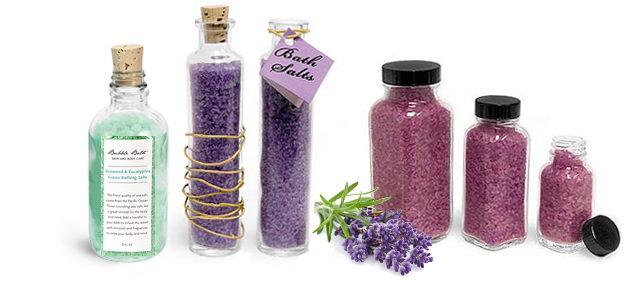 Product Spotlight - Bath Products
Glass Bath Salt Containers
SKS has a selection of clear glass bottle and jar options to stylishly package vibrant bath salts. When choosing bath salt containers it is important to consider packaging that offers moisture barriers to ensure bath salts maintain their crystallized form. Clear glass paired with various lined caps provides strong moisture barriers to assist with preserving bath salt shelf life.
Glass Bottles & Glass Jars for Bath Salt Containers
Clear glass cylinder bottles paired with cork stoppers offer a striking presentation for packaging bath salts. The tapered neck lip assists with pouring and is compatible with cork stoppers, which create a snug fit when closed. These 4 oz cylinder bottles can be used to house bath salt sets with various scents or therapeutic properties. Clear glass boston round and frosted boston round bottles paired with cork stoppers are available in a selection of sizes for creating a complete product line of bath salts and other bath products. To close, push the cork stoppers halfway into the neck of the glass boston round bottles for a snug fit.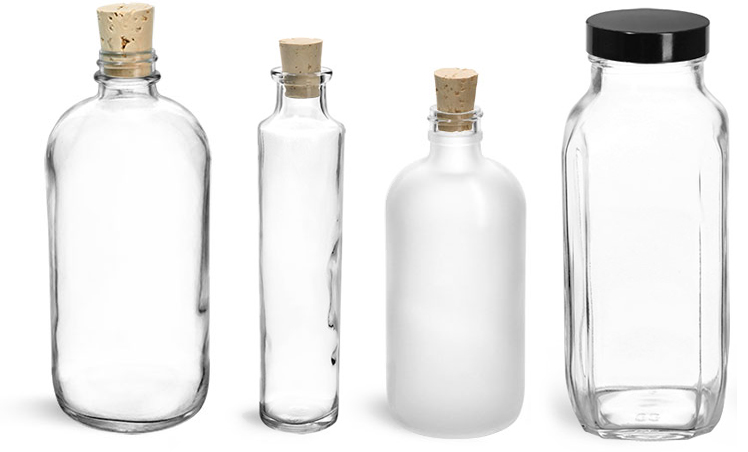 Square glass bottles with black phenolic caps offer an alternative look for packaging bath salts, as well as additional barriers against moisture and air when closed. The square glass bottles include a wider opening for easily pouring bath salts and the tall, smooth sides offer an ample labeling area, while emphasizing the colorful bath salts stored within.
SKS provides glass jars in various styles that can be good choices when packaging bath products. Clear glass
wire bale jars
with hinged lids are available in three sizes and can be used to seal bath products against contaminants. These bath salt containers include a glass lid with a rubber ring that is attached to a metal hinge, which creates an airtight seal when closed.
Clear glass jars
with glass press-fit lids offer another unique option. The column-style jars feature a sturdy base and the paired glass lids contain rigid plastic fitments that allow them to fit securely by creating friction against the glass jars without scratching or damaging them.
Tall, slender, clear
glass paragon jars
with aluminum caps provide another classic option for packaging bath salts. Paragon glass jars are durable, feature tall walls for easy labeling, and wide openings for pouring bath products, like soothing bath salts, relaxing foot soaks, and more. The paired aluminum caps include PE-F217 liners, which provide excellent chemical resistance to acids, alkalis, solvents, alcohols, oils, household cosmetics, and aqueous products, and assist with maintaining bath salt shelf life by blocking out moisture. SKS highly recommends testing our glass bottles and jars to ensure complete compatibility with your bath products.
Purchase Bath Products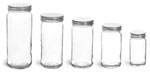 Clear Glass Paragon Jars w/ Lined Aluminum Caps
Chat with Us
Sign up for SKS Emails!