The Packaging Rap

SKS Bottle & Packaging Newsletter
---
Cleaning Containers
April 2020
Spring is in the air and, for many, spring cleaning has begun. SKS carries a variety of metal, glass, and plastic containers that are great for storing various household cleaners, including furniture polish, dish soap, carpet deodorizer, and more.
---
Protect wooden furniture and give it a beautiful sheen with this beeswax and plant based furniture polish by Misfit Gardening, packaged in our deep metal tins. Using four simple ingredients, easily make and apply this polish to wooden furniture using a soft brush or cloth.
1 oz Beeswax: protects the wood from damage and helps keep the oils in the wood.
4 oz Olive oil: hydrates the wood.
1 tsp Grapeseed oil: helps preserve the olive oil.
¼ tsp Essential oil (optional): adds a nice scent to the polish. Popular choices are lemon, lavender, or orange.

Deep metal tins are available in five different sizes, ranging from 1 oz to 8 oz, and come with rolled edge metal covers. Each metal container is composed of tin plated steel, which is durable, corrosion resistant, and 100% recyclable.
---
Detoxify your dish soap with this homemade recipe from Oh Lardy stored in our plastic squeeze bottles with push pull caps. This non-toxic recipe calls for less than ten ingredients and can be made in minutes.

½ tsp Salt
15 Drops essential oils of choice: adds scent to the dish soap. This recipe uses Purification, grapefruit, and lemon.
½ cup Water: waters down soap so it lasts longer.
1 tsp Vegetable glycerin: helps cut through grease.
1 cup Castile soap: the base of the recipe and provides a good lather.


Our natural HDPE plastic dish soap bottles are available in two sizes, are highly flexible, and offer good barriers against grease and oil. The plastic caps feature a pouring spout that is opened when the caps are pulled and closed when the caps are pushed.
---
Deodorize your household carpets with this easy carpet freshener recipe, also from Oh Lardy, packaged in our plastic powder bottles. Only two ingredients are needed for this green recipe and the scent can be easily personalized based on preference.
8 oz Baking soda: absorbs odors and is easily vacuumed.
5-10 Drops essential oils of choice: adds scent to the powder. Some popular options include pine, lemon, or grapefruit.


White HDPE powder bottles are durable, available in five sizes, and feature snap on sifter caps. The sifter caps easily twist open and closed and can be removed to refill the plastic bottles as needed.
---
Packaging Tip
Glass and Plastic Containers
There are many benefits to choosing glass or plastic packaging, depending on the type of product, product brand, budget, and more: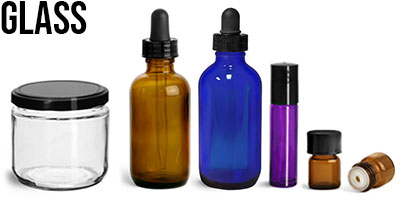 Impermeable
100% recyclable
Non-toxic
Does not degrade over time
Visually appealing
Easily labeled or silk screened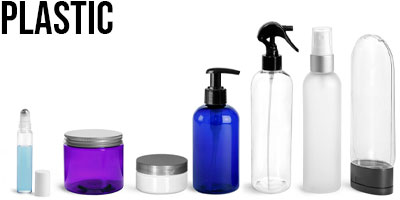 Lightweight
Durable
Cost-effective
Generally recyclable
Customizable material
Easily labeled or silk screened
---
Product of the Month
PET Plastic Boston Rounds w/ Mini Trigger Sprayers
Our 8 oz, 12 oz, and 16 oz clear PET plastic boston round bottles are paired with white or black trigger sprayers for dispensing various liquid products, including cleaners, insect repellent, and more. Each trigger sprayer dispenses 0.21 cc per spray and features a locking button at the neck, which prevents unwanted discharge when stored or transported. Amber plastic boston rounds are also available for storing products containing light sensitive ingredients.