Structure of Metal Containers
Our can anatomy page will guide you through the standard tin can and lid components so you are able to select the container best suited for your needs.
Slip Cover
Cover / Closure style in which the covers skirt (vertical surface slips over and to the outside of the can body).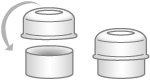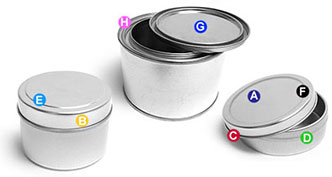 Dome Cover
A type of cover characterized by a flat horizontal surface (top) that tapers smoothly onto the skirt (Vertical Surface).

Embossed
Type of slipcover in which a "step" is created between the horizontal surface and vertical surface of the cover so that stacking tins is possible with less likelihood of toppling over.

Skirt
The vertical surface between the edge of the top of the slip cover and the curl at the bottom of the slip cover.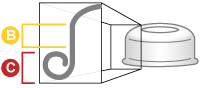 Debossed
Type of slipcover that has a depression between the horizontal surface of the cover.

Curl
An area of tin turned in on itself to provide a safe,
finished curved edge.
Plug
The top that fits into the walls of the friction ring.

Bead
Concave ( interior bead ) or convex ( exterior bead ) area usually 1/8" wide spanning the circumference of the tin to provide additional strength and stability to the tin body.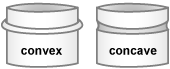 Multiple Friction Ring
A plug closure fits into a "well" of a seamed ring. The plug is pressed into the ring and the two surfaces ( the outside and inside edge ) come into contact with the ring, creating multiple sealing surfaces on the plug/ ring combination.
Chat with Us
Sign up for SKS Emails!