Natural HDPE Euro Oval Sprayer Bottles w/ Overcaps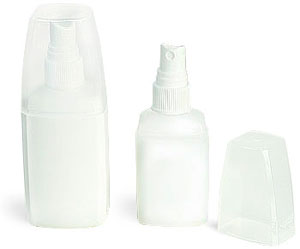 The natural HDPE plastic Euro oval sprayer bottles are available in either a 2 oz or a 4 oz size. These bottles include white fine mist sprayers with natural overcaps, and could possibly be used to hold and dispense products such as body sprays, air fresheners and hair care products.
Product Specifications
Stock #
Size
Dimensions
Min Purchase
Order
0057-00(2 oz)


118 mm

(H)


32 mm

(L)


44 mm

(W)
2 oz
118 mm (H)
32 mm (L)
44 mm (W)
25,000 pcs
Min: 25,000 pcs



Email

0057-01(4 oz)


136 mm

(H)


38 mm

(L)


51 mm

(W)
4 oz
136 mm (H)
38 mm (L)
51 mm (W)
25,000 pcs
Min: 25,000 pcs



Email
Lead Time: Approximately 12 Weeks
FOB: New York
* Prices subject to change
* No other discounts apply
* Freight calculations to your destination to be determined
* Price Breaks for Quantities Over 5,000
* Standard Color: Natural
---
---
SKS Pallet Quantities
SKS is now offering additional items that may be of interest to you! Although these are non-stock items, we are able to provide them in pallet quantities with specified lead times. We have provided all of the specs to purchase these items with ease and welcome your requests to purchase. Please do not hesitate to contact us with additional questions.