Plastic Jars, PETG Jars w/ Lined Silver Caps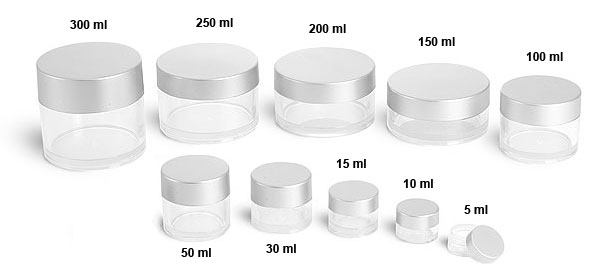 SKS offers 9 sizes of our PETG jars with lined silver caps, ranging from 5 ml to 300 ml. These jars could be the perfect packaging for any number of products, such as creams, cosmetics and more. The silver caps have PE liners, which can help keep your product fresh and reduce the possibility of leakage. If you are looking for quantities above the minimum listed, please feel free to contact us with your request.

Frosted PETG jars with PE lined silver caps are also available, in the same size options as the clear PETG jars. Choose from sizes ranging from 5 ml to 300 ml.
Product Specifications
Lead Time: Approximately 12 Weeks
* Prices subject to change
* No other discounts apply
* Freight calculations to your destination to be determined
* Price Breaks for Quantities Over 5,000
* Deco Available, Please Contact Sales
---
---
SKS Pallet Quantities
SKS is now offering additional items that may be of interest to you! Although these are non-stock items, we are able to provide them in pallet quantities with specified lead times. We have provided all of the specs to purchase these items with ease and welcome your requests to purchase. Please do not hesitate to contact us with additional questions.