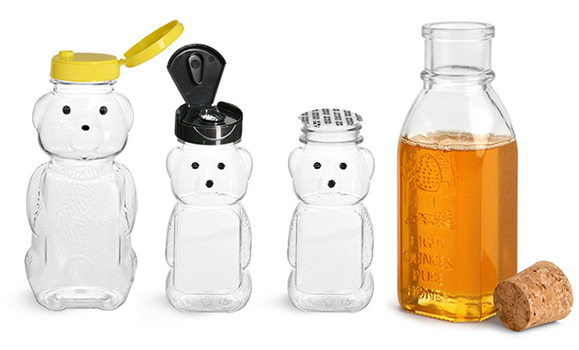 Top 5 Honey Containers
SKS carries a range of honey containers that can package raw honey, honey-infused body care products, honey-flavored foods, and much more. Many of our honey containers are conveniently listed in honey weight instead of fluid ounces. Take a look at SKS' top 5 plastic and glass honey containers for traditional or modern packaging options.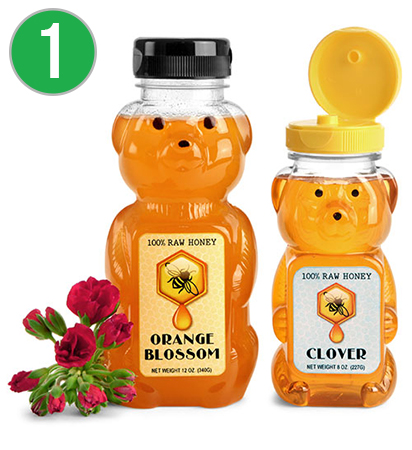 Clear PET Honey Bear Bottles with Lined Plastic Caps
---
Plastic honey bear bottles with yellow or
black caps
are an iconic packaging choice for honey. The 6 oz and 8 oz honey bear bottles pair with polypropylene snap top caps, while the 1.5 oz size includes a yellow ribbed cap Each cap features a peelable liner. These well recognized bear-shaped bottles feature molded bear faces and bodies with textured fur details. For easy labeling, the honey bear bottles have flat a square panel on the bear's stomach to incorporate product details.
Purchase honey bear bottles with yellow caps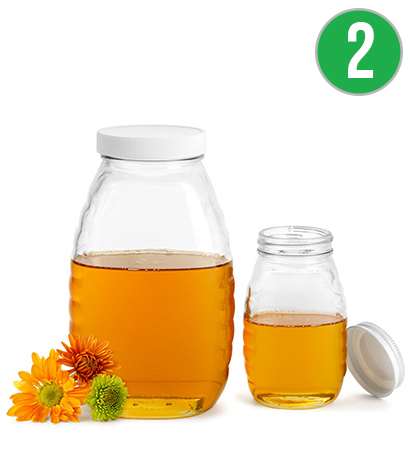 Clear Glass Honey Jars with White Metal Plastisol Lined Caps
---
These hive inspired glass honey jars offer many stylistic and functional features, making them a top choice when purchasing honey containers. The tapered honey jars include stylized ribbing on the sides that creates a beehive look, as well as front and back flat labeling areas for decorating. The wide neck finishes pair with white metal plastisol lined caps for canning if long term storage is desired. These glass honey jars feature a sturdy base and highly recognizable look, which could be used to package raw honey and honey-infused products.
Buy glass hive honey jars with white metal caps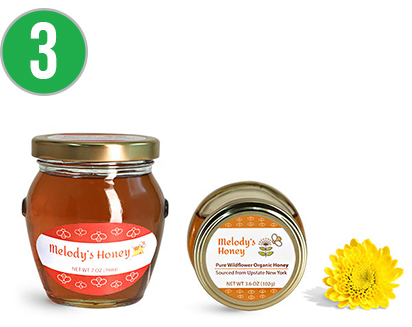 Clear Glass Honey Pot Jars with Gold Metal Plastisol Lined Lug Caps
---
The classic style honey pot jars can showcase a range of honey themed products. Bring some charm to your honey packaging with our unique honey pot style, featuring a tapered shape and molded notches on the sides. Honey pot jars are compatible with metal lug caps with plastisol liners, which create an additional seal if desired. These honey containers are also compatible with shrink bands for an easy and secure tamper-evident seal.
Purchase glass honey pot jars with gold caps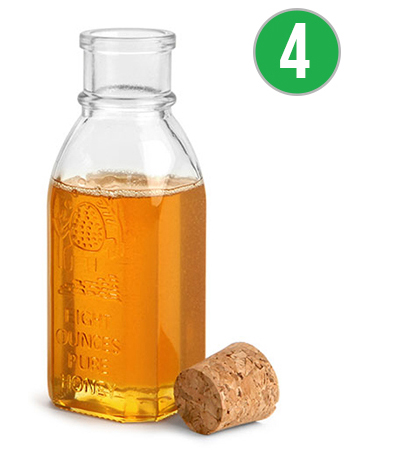 Clear Glass Muth Style Honey Bottles with Cork Stoppers
---
Clear glass muth style honey bottles offer a vintage style and include decorative embossed images depicting a beehive, as well as the honey weight capacity on the front. Matched with these honey muth bottles are tapered corks, composed of agglomerated cork, which is 100% recyclable and sustainable. The muth honey bottles with matching corks offer a stylish and eco-friendly option for a line of honey products.
Buy glass muth honey bottles with corks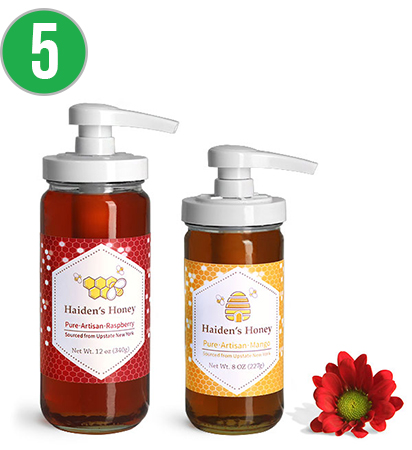 Clear Glass Paragon Jars with White Polypropylene Pumps
---
SKS offers clear glass paragon jars with white polypropylene pumps for dispensing honey and other high viscosity products. The white pumps include wide dip tubes that dispense 4 ml per stroke and a locking mechanism for preventing any unwanted discharge. Paired with these pumps are clear glass paragon jars that feature a tall, slender shape that can stand out on store shelves.
Purchase paragon glass jars with white pumps
Browse our honey container
product spotlight
and
beekeeping container
industry feature for additional packaging ideas for honey and honey-infused products! Be sure to test all of your packaging selections with your product to ensure complete compatibility.
You May Like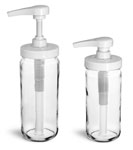 Clear Glass Paragon Jars w/ White Polypro Pumps
Chat with Us
Sign up for SKS Emails!