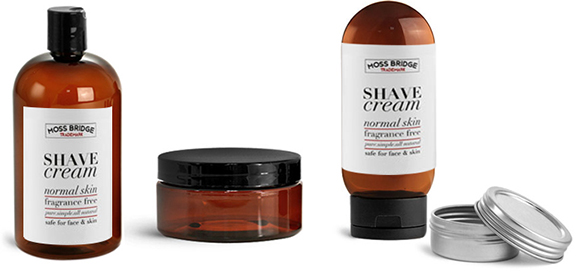 Top 5 Beard Care Containers
SKS makes it easy to add increasingly popular beard care products to existing or new personal care lines. Amber glass and plastic containers accentuated with silver metal tins are great choices for packaging a selection of beard care products.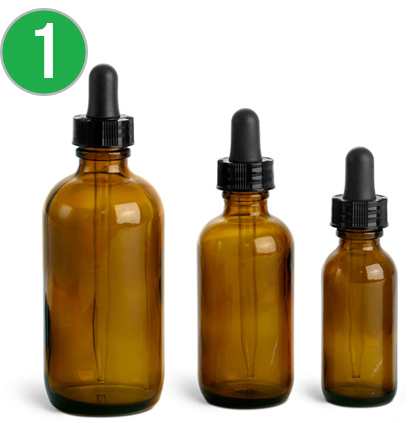 Amber Glass Boston Round Bottles with Black Bulb Glass Droppers
---
SKS offers amber glass boston round bottles with black bulb glass droppers for housing liquid products, like beard oil. Amber glass offers a high-end appeal, while also offering UV protection to help preserve the products within. Pairing amber glass boston round bottles with black bulb glass droppers allows customers to dispense beard oils, serums, and more with a controlled output. Amber glass boston round bottles can also be paired with
white bulb glass droppers
for easily distinguishing products.
Purchase amber glass boston round bottles w/ black droppers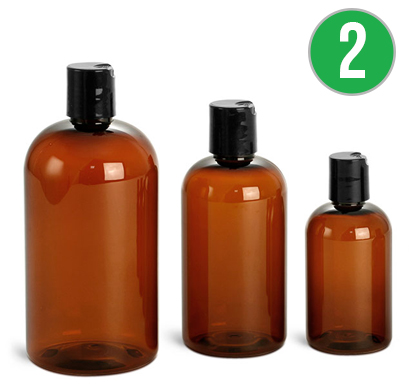 Amber PET Boston Round Bottles with Black Disc Top Caps
---
Amber PET is a top choice for packaging beard care products because of its high durability, UV ray protection, and resistance against moisture and oxygen. Amber boston round bottles with black disc top caps dispense products with varying viscosities, including beard cleansers, dyes, and more. These amber PET boston round bottles with black disc top caps are available in sizes ranging from 2 oz to 16 oz and offer a variety of volumes to fit customer needs. Also consider amber PET
cosmo round bottles
with black disc top caps that feature the same sizes in a taller, more slender style.
Buy amber boston round bottles w/ black disc top caps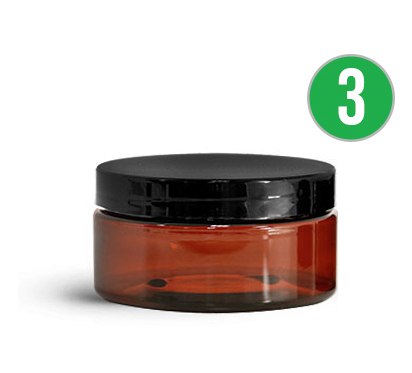 Amber PET Heavy Wall Jars with Black Smooth Plastic Lined Caps
---
Amber pet heavy wall jars with black smooth caps are an excellent option for packaging beard balm, which is used to moisturize, condition, and soften beard hair. Many beard balms and beard styling products are activated by rubbing the product between the palms before application. Amber heavy wall jars feature a wider opening and lower profile for easily dispensing products by hand. SKS also offers amber PET heavy wall jars with
black dome caps
. Both the smooth and dome cap options include PE-F217 liners, which help to maintain the beard care products stored within.
Purchase amber heavy wall jars w/ black smooth caps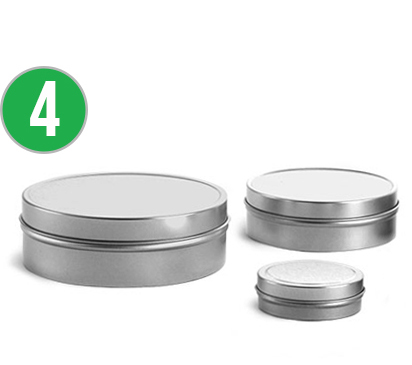 Flat Tins With Rolled Edge Covers
---
Metal flat tins with rolled edge covers can be a great choice for packaging beard wax and styling products. The metal tins are composed of tin-plated steel, which offers many benefits, such as increased product shelf life, as well as barriers against water, odors, gases, and light. The metal tins are available in sizes ranging from 1/4 oz to 8 oz and can be used for samples, beard care kits, or in barbershops and salons. Each of the metal tins includes lids that can be custom branded with the choice of
labels
with white or clear backing. SKS also offers metal tins with
screw-top covers
that create a threaded seal for packaging travel sets and hotel amenities.
Buy silver metal tins w/ rolled edge covers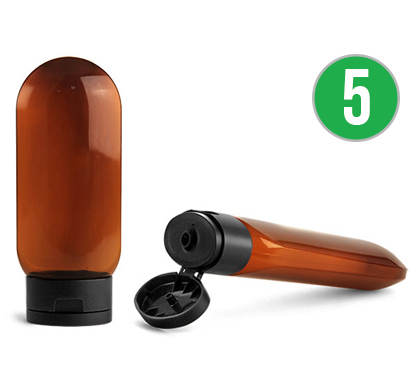 Amber PET Tottles with Black Snap Top Caps
---
Beard lotions and conditioners assist with long-term strengthening, softening, and cleaning. Amber PET tottles with black snap top caps easily dispense beard care products, while offering a dynamic packaging style. The black snap top caps include a .154" orifice for dispensing products by lightly squeezing the tottles, as well as a flat base for storing the tottles upright. The unique shape of the tottle bottles provides front and back panel labeling for custom branding and product information. Amber tottles can also be cohesively and stylishly integrated into beard care product lines that use the above amber boston round bottles.
Purchase amber tottles w/ black snap top caps
You May Like
Sign up for SKS Emails!