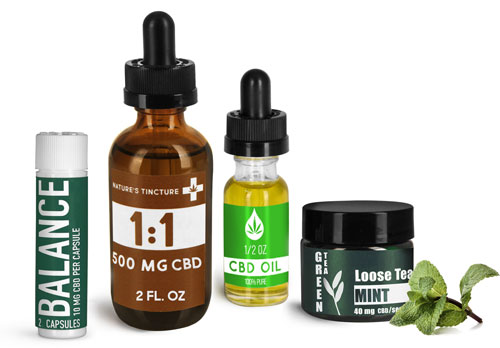 Top 5 CBD Packaging Options
Best Packaging Choices for CBD Products
SKS offers a range of useful packaging for CBD product lines, including tinctures, concentrates, and more.


Plastic Vials w/ Child Resistant Droppers
---
SKS offers
amber
,
blue
,
green
, and
black
PET slim line cylinders paired with black child resistant glass droppers. These plastic bottles with bulb glass droppers are durable and offer customers a compact and safe way to transport CBD products. The black child resistant glass droppers dispense .8 ml per draw and require hand dexterity to open, keeping children from accessing the contents. Each slim line cylinder color protects against UV rays and the variety of colors can be used to assist with distinguishing product flavors, potency, and more.
Purchase Vials with CR Droppers HERE


White Pharmaceutical Round Bottles with Child Resistant Caps
---
For products that could include CBD supplements and powders, SKS offers pharmaceutical round bottles in a range of sizes, from 75 cc to 500 cc, paired with white child resistant caps. This pair is compliant with many FDA regulations within the CBD industry and features air and moisture barriers to help maintain product security and preservation. The white child resistant caps include a universal picture depicting how to open the containers, as well as a PE-F217 liner that creates an additional protective layer from external elements when closed.
Buy Pharm Round Bottles HERE


Clear Glass Bottles with White Bulb Glass Droppers
---
Clear glass boston round bottles are durable and impermeable, making them great for long-term storage. The smooth sides of the boston round bottles offer a flat labeling area to clearly display important product information and branding. 1/2 oz, 1 oz, and 2 oz volumes are matched with white bulb glass droppers and can be used to create a product line with various dosing quantities. Choose these clear glass boston round bottles with white bulb glass droppers for products that could include liquid concentrates, CBD infused oils, and drink additives.
Purchase Glass Dropper Bottles HERE


White Low Profile Jars with White Child Resistant Caps
---
White low profile jars offer a multidimensional option when packaging CBD products, such as balms, hemp powders, and more. The wide mouth and low profile provide easy access to products, especially when applying to the skin for pain relief. These white low profile jars are composed of HDPE and feature excellent barriers against moisture, as well as strong chemical resistance, to ensure your CBD product freshness is maintained.
Buy Low Profile CBD Jars HERE


Clear Glass Jars with Black Smooth Caps
---
With the increasing popularity of CBD products, CBD concentrates are a mainstay in many CBD product lines. These clear glass jars feature thick, impermeable glass walls that do not change or interact with the CBD concentrates stored within, as well as a wide opening for ease of use. The stylish smooth black caps include F217 liners, which provide a multilayer chemically resistant barrier and have good taste and odor resistance. Clear shrink bands can be paired with each size for an outer tamper evident seal at a small cost.
Purchase Glass CBD Jars HERE
For additional ideas, browse our
Hemp & CBD packaging index
. SKS highly suggests testing all of our CBD packaging to ensure complete compatibility with your products.
You May Like
Sign up for SKS Emails!