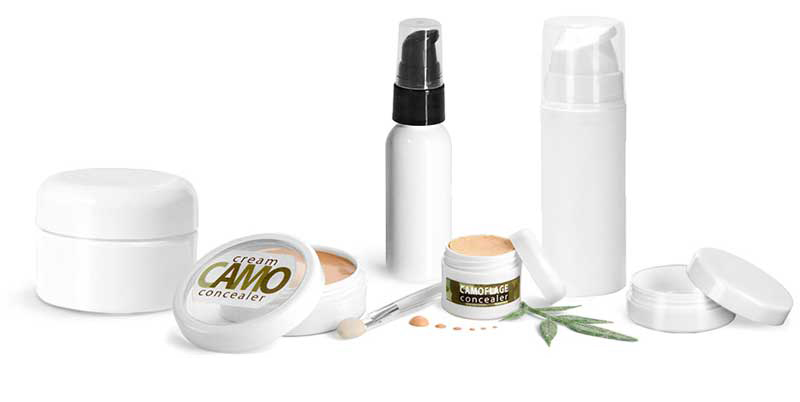 Product Spotlight - White Plastic Jars & Bottles
White Cosmetic Packaging
White plastic bottles and jars are available in a variety of styles that can package cosmetics and face care products. From white plastic jars with clear tops to white plastic bottles with an accent of silver, SKS offers packaging for products that could include powdered foundation, face masks, eyeshadow, and much more. With the selection of styles, sizes, and construction, SKS is sure to fit your cosmetic packaging needs.
White Cosmetic Jars
SKS offers white plastic jars in a variety of styles that can showcase cosmetics, like eyeshadow, lip stains, eye creams, and more. Polypropylene double wall jars are composed of an inner and outer jar, making for stylish, durable containers.
Choose small volume double wall jars with
white domed
caps, or
unlined
or
lined
smooth caps to match your needs. Polypropylene thick wall jars are comparable to double wall jars, but have a more lightweight construction that is useful when on-the-go. Choose
white thick wall jars
in a range of sizes paired with white smooth caps.

SKS offers white plastic jars and matching caps with clear windows for easily viewing cosmetic shades without the need to open the jars.
White ABS
cosmetic jars
feature good moisture barriers and are shatter resistant, making them a top choice for cosmetics. White UF
cosmetic jars
with clear window caps are an additional option. UF features resistance to chemicals, moisture, oils, and alcohols, as well as high density, hardness, and UV protection.
White Cosmetic Bottles
White plastic bottles with a variety of dispensing caps create a polished look for liquid cosmetics. Choose from a selection of white PET plastic bottles in styles that create an eye-catching display with paired with creative labels. PET has high impact resistance, offers suitable barriers against moisture and oxygen, and also has a high resistance to acid, grease, oils, cold, and heat, making it a good choice for packaging. The opaque coloring of these white PET bottles also provides barriers against UV rays and preserves the shelf life of light-sensitive products.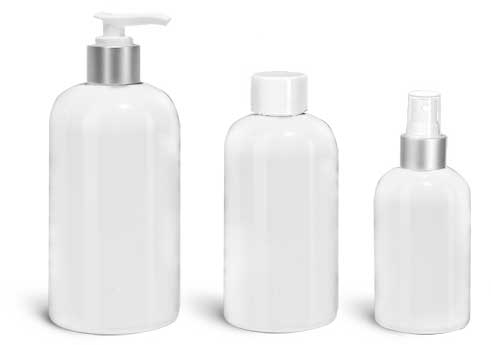 PET plastic is a widely used packaging material throughout many industries and is prevalent in our everyday lives, allowing customers to confidently purchase products packaged in PET plastic bottles and jars. SKS' PET plastic bottles and jars are FDA approved and BPA free, making them a popular and safe choice in the cosmetic, pharmaceutical, and skin care industries, as well as many others.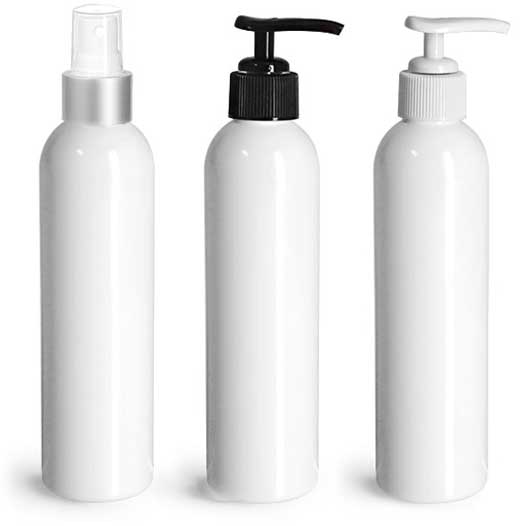 SKS also carries white bottles with airless and foaming dispensing options for products that could consist of face washes, skin rejuvenation serums, and more.
Airless pumps are a top choice when packaging cosmetics that are highly sensitive to oxygen and other elements. After filling and sealing the bottles, a vacuum is created for dispensing through a propellant and metal-free pathway. White airless pumps also include overcaps that snap into place for mess-free storing when not in use.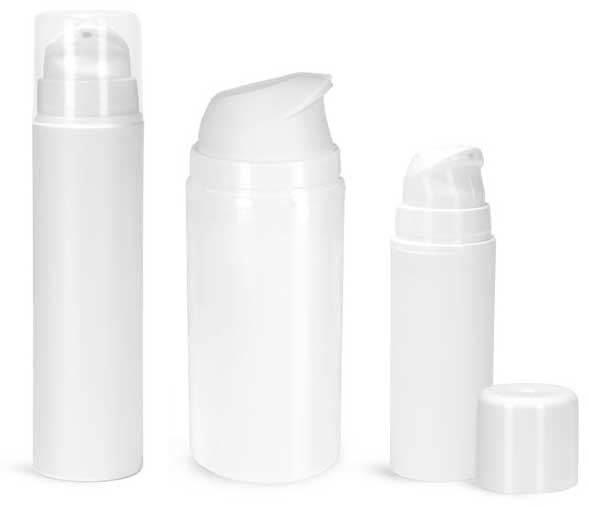 SKS offers white foaming pump bottles in various sizes to dispense liquid cosmetic products in a light, airy foam. The foaming pumps include foaming chambers that integrate air into the product, which then travels through the pump necks, and is administered without the use of gas propellants.
It is recommended to avoid over filling the foaming bottles so product does not reach the foaming chamber, which can result in an inconsistent foam. It is also essential to test the foamer pumps with your product. Finding the right balance between your unique formula for correct foaming action is pivotal in providing a problem-free experience for customers.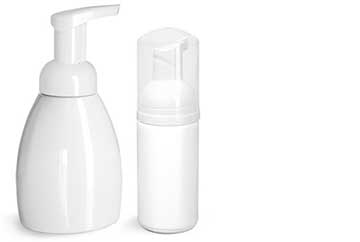 Sleek white cosmetic containers easily elevate product style. To find even more options for a fully dynamic product line, be sure to visit our
cosmetic industry
index. Whether you are expanding an existing line of products or looking to start one, contact our Customer Care department with any questions.
Purchase White Plastic Jars & Bottles
Chat with Us
Sign up for SKS Emails!