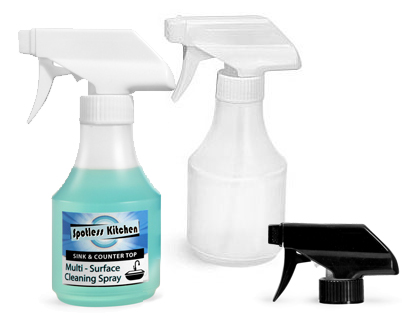 Product Spotlight - Trigger Sprayers for Cleaning Supplies
Trigger Sprayers for Household Cleaners
Trigger sprayers provide top level storing, dispensing, and durability for packaging a range of products that could include household cleaners. Pair white and black trigger sprayers with plastic bottles for packaging tile cleaner, all surface sprays, disinfectants, and much more!
Trigger Sprayers for Cleaning Supplies
White
and
black
trigger sprayers feature a durable construction, making them a convenient packaging choice for household cleaners. The adjustable nozzles include on, off, stream, and spray options, allowing customers to determine the most optimal dispensing method and quick, easy closing for storage. The curved trigger presents a comfortable hold for customers during use and does not require a large amount of exertion to dispense.

Trigger Sprayer Components:
28/400 neck finish with various dip tubes
Output of .9 ml in the stream or spray position
Ribbed collar for easy gripping
The trigger sprayers and installed dip tubes are composed of polypropylene plastic. Polypropylene is frequently used when creating dispensing caps due to its strong chemical resistance, durability, and moisture barrier. These trigger sprayers feature a 28/400 neck finish and can be paired with equally durable
HDPE spray bottles
. When packaging highly concentrated cleaners or all natural cleaners infused with essential oils, it is key to test your products and ensure compatibility with the trigger sprayers and plastic bottles of choice.
Purchase Trigger Sprayers for Cleaning Supplies
Sign up for SKS Emails!