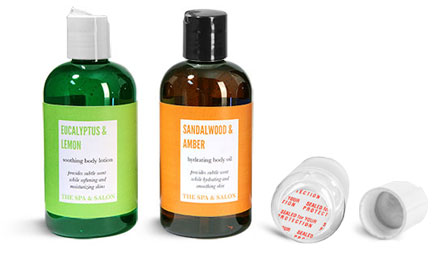 Product Spotlight - Disc Top Caps
Disc Top Caps for Spa Essentials with Liners
SKS offers PS22 and induction lined disc top caps that feature a range of benefits for packaging spa essentials, like massage oils and lotions, manicure and pedicure supplies, and more.
White & Black Lined Disc Top Caps for Spa Essentials
White
and
black
disc top caps with PS22 liners are a simple way to block moisture and protect product freshness. This liner is easy to apply; it does not require any machinery and involves very little additional time for the liners to activate. PS22 liners include a pressure sensitive foam layer with an adhesive coated liner that sits within the cap tops until they are screwed onto a container and left for 24 hours. "SEALED FOR YOUR PROTECTION" is printed on the top of the PS foam layer and is visible once adhered to a container.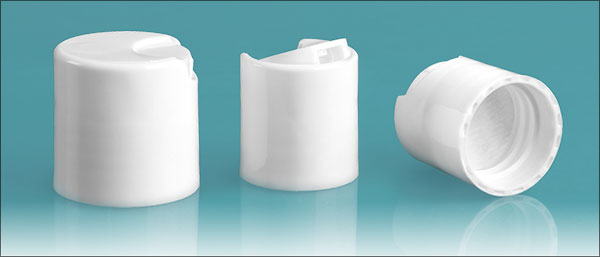 Applying PS22 Lined Disc Top Caps:
Fill plastic bottles
Clean rim of plastic bottles
Tightly screw on disc top caps
Leave disc top caps in place for 24 hours




SKS offers
black
and
white
disc top caps with induction liners for packaging spa products. Induction liners include pulp-board, wax, foil, and polymer coated layers to create a multi-functional seal. Activated induction liners create a hermetic, leak-proof and airtight, tamper evident seal that is ideal for shipping products to customers or selling within your spa without worry of product tampering. SKS also offers various induction sealing machine models to fit your production needs. For more information regarding the benefits of induction, liners read our
Induction Sealing page.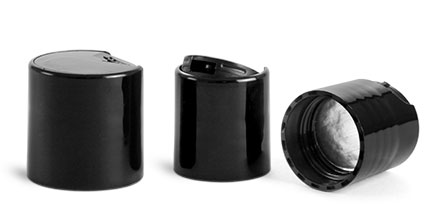 Applying Induction Lined Disc Top Caps:
Fill plastic bottles
Clean rim of plastic bottles
Tightly screw on disc top caps
Use an induction machine to activate liner



Both disc top cap styles are available in a 20/410 neck finish with a .270" orifice, as well as a 24/410 neck finish with a .308" orifice. These smooth polypropylene disc top caps provide good moisture barriers and resistance to grease, oil, and alcohol. After choosing dispensing caps with the liner that fits your application, be sure to test your selection with your products to ensure complete compatibility.
Purchase Disc Top Caps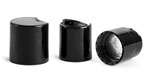 Black Disc Top Caps w/ Induction Liners
Sign up for SKS Emails!