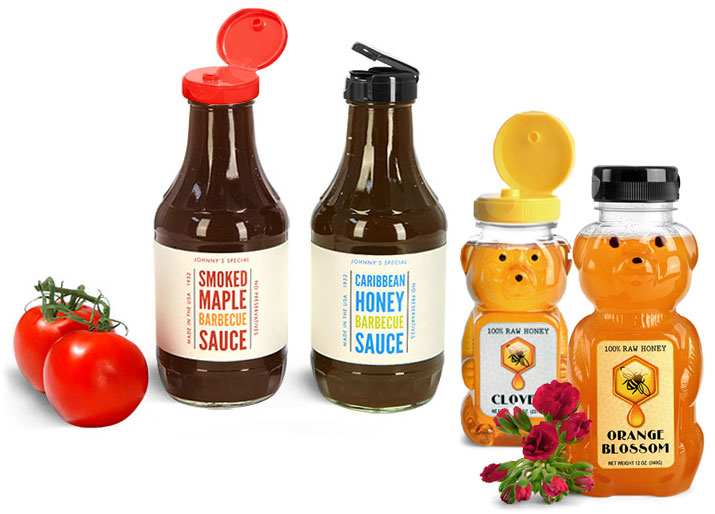 Product Spotlight - Snap Top Caps
Snap Top Caps for Food Products
When packaging a range of food products, like salad dressing, condiments, and more, choose snap top caps for easy dispensing. These snap top caps are offered in a variety of colors, are smooth or ribbed, and feature different types of liners to fit your needs. Pair these snap top caps with glass and plastic bottles for products sold in restaurants, grocery stores, online, and more!
Food Products Packaged with Snap Top Caps
Ribbed snap top caps with peel-able liners are available in an assortment of colors. Sold in the 38/400 neck finish, these snap top caps can pair with both plastic and glass bottles, including
honey bear bottles
,
sauce bottles
, and
inverted ovals
. The dispensing holes are .25" in diameter for smoothly and cleanly dispensing products, like dressings, sauces, and toppings.
Peel-able liners are useful to lock in freshness and extend product shelf life. After filling, securely screw the snap top caps onto the bottles and let them sit for about 24 hours, the peel-able liners adhere to the rims of the bottles with no additional machinery.

Smooth black lined snap top caps are specifically molded for high performance when dispensing liquids such as sauces, dressings, and marinades. These dispensing caps have a 38/400 neck finish and a .815" oval shaped opening. Choose between two styles of induction liners included with these caps.
The
FS3-25
induction liners have three layers (backing, foil, and heat seal) bonded together to create a secure induction seal.
Lift 'n' Peel™
induction liners consist of six layers of PET film, polymer adhesive, a PET tab, polyolefin foam, foil, and a heat seal. Each is equipped with a PET tab so customers can pull the liners from the bottles in one quick, easy step. Each layer in both liner styles is composed of FDA approved materials, allowing for use with an array of food products.
These caps can be paired with many bottles sold by SKS, such as the
barbecue sauce bottles
,
salad dressing bottles
, and
decanter bottles
. Induction liners create a hermetic, tamper evident, airtight seal that assists in extending the freshness of your product. Activating these induction liners involves the use of
induction liner machines
, which are sold in different models to suit varying production sizes.
Purchase Snap Top Caps
Sign up for SKS Emails!