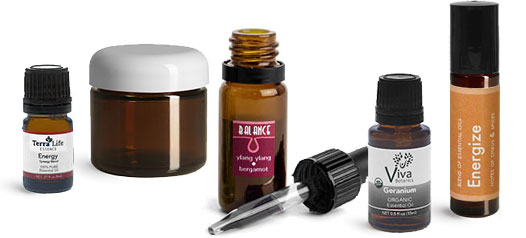 Product Spotlight - Aromatherapy Amber Glass Bottles & Jars
Amber Glass Aromatherapy Containers
When producing aromatherapy oils and aromatherapy infused products, choose from a range of amber glass Euro dropper bottles, roll on bottles, and jars, paired with durable plastic caps. With such a wide selection of amber glass bottles and jars, SKS is sure to have packaging options for aromatherapy products, like oils, creams, and more.
Aromatherapy Packaging in Amber Glass Bottles & Jars
Euro dropper bottles are a highly popular option when packaging aromatherapy oils due to the variety of sizes, matching tamper evident caps, and more. The amber glass Euro dropper bottles include a special neck with precise construction on the outside and inside. On the outside, an added lip is built in to match with tamper evident rings, while the inside is designed to be compatible with orifice reducers.
The tamper evident caps feature a special ring that is used to confirm whether a product has been opened previously. The orifice reducers have round 1 mm holes in the center for controlling the amount of product dispensed. SKS also offers a tamper evident cap with 1.5 mm orifice reducers and tamper evident bulb glass droppers for dispensing products in larger quantities when needed.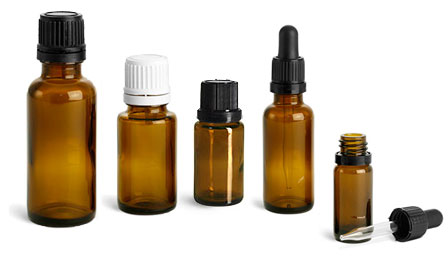 Amber glass jars, paired with a variety of caps, can be a stylish and durable choice for packaging products that could include aromatherapy infused creams, salves, bath salts, and candles.
The plastic caps feature either PE-F217 liners or Teflon liners. PE-F217 liners provide excellent chemical resistance and a low moisture transmission rate, along with good taste and odor resistance. Teflon liners offer superior chemical resistance and can withstand compounds that could degrade other liners, which can be useful when packaging highly concentrated oils.

Amber glass roll on bottles
with white or black plastic caps can be used to dispense aromatherapy blends directly onto the skin. The natural plastic fitments and balls snap into place for smooth application and the plastic polypropylene caps thread securely onto the roll on bottles for a tight closure. SKS highly suggests testing our amber glass containers with aromatherapy products to ensure complete compatibility. When creating a full product line, be sure to browse our
aromatherapy index
for a variety of glass bottles, vials, and more.
Purchase Aromatherapy Amber Glass Bottles & Jars
Chat with Us
Sign up for SKS Emails!