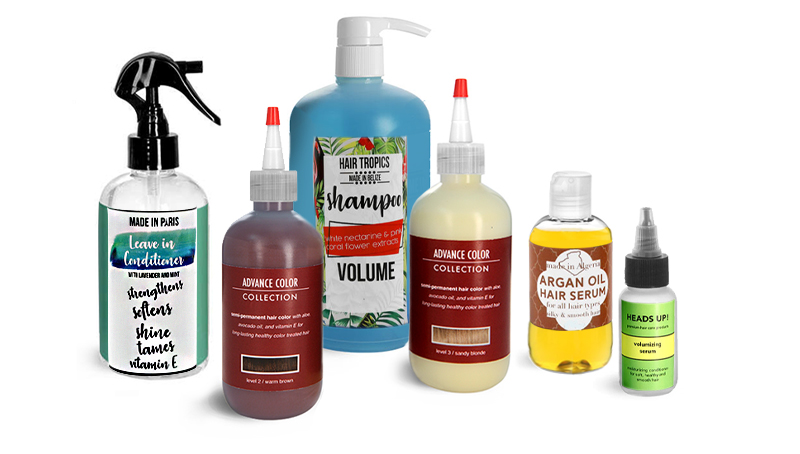 Hair Care Products with Natural and Clear Boston Round Bottles
SKS offers natural and clear boston round bottles, which can be used to produce a line of hair care products and salon supplies for treating hair professionally or at home. Plastic boston round bottles are matched with various dispensing caps for packaging hair spray, hair dye, hair treatment serums, and much more.
Clear boston round bottles paired with disc top caps can be a top choice for packaging shampoo and conditioner, styling gel, and more. These plastic bottles are composed of PET, one of the most frequently used plastics due to its high durability and good barriers against gas and moisture, making them useful in bathroom storage. PET is also highly resistant to dilute acids, oil, and alcohol for packaging products with cleansing properties. Disc top caps are available in a selection of colors paired with clear boston round bottles for easily dispensing hair care products, while also providing clean storage when not in use.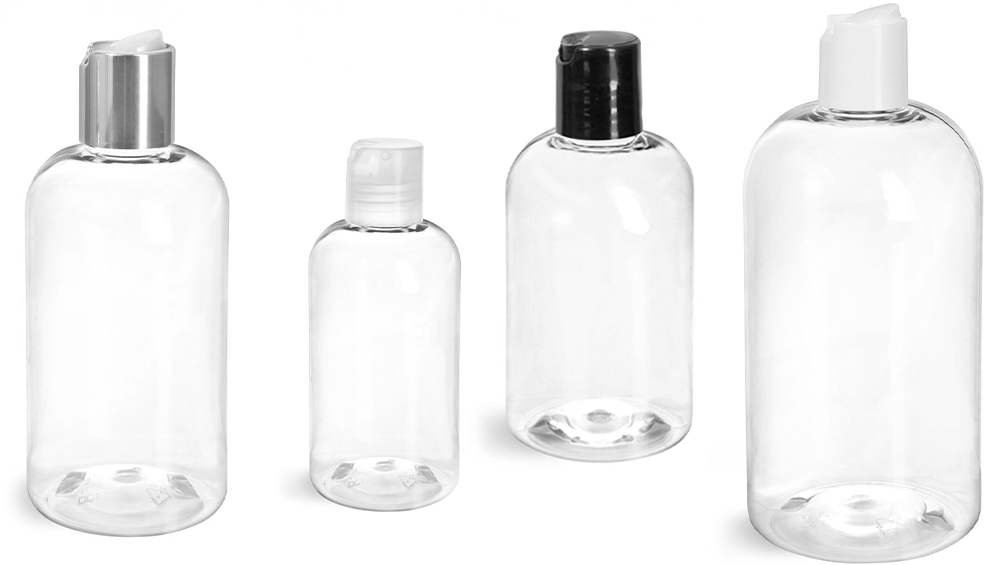 SKS pairs clear boston round bottles with fine mist sprayers in various colors for dispensing products that could include hair spray, leave-in conditioner, and hair detangler. The fine mist sprayers dispense .14 ml to .16 ml per spray and include clear styrene hoods for preventing unwanted product discharge while storing or transporting. Fine mist sprayers are designed with the user in mind. Spring-loaded dispensing and sloped tops require minimal effort for a continuous spray.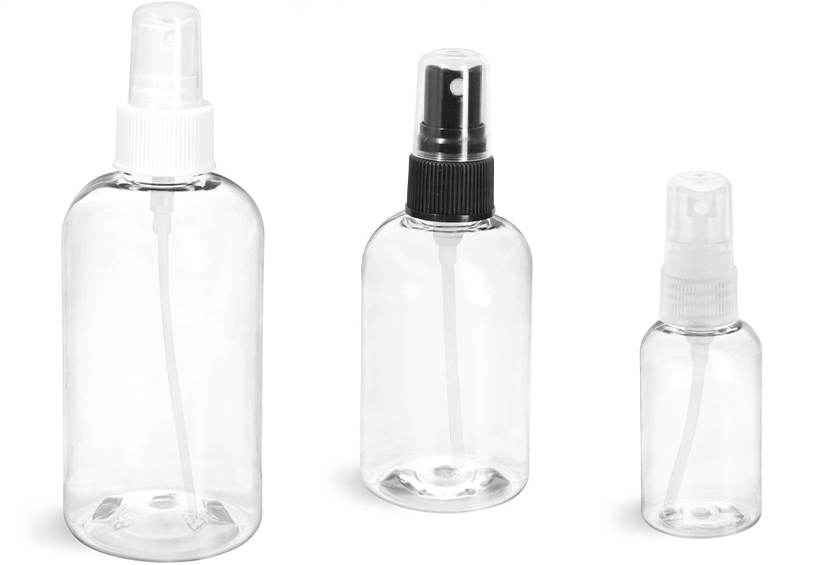 Clear Boston Round Bottles with Fine Mist Sprayers:
Boston round bottles with white fine mist sprayers
Plastic bottles with black fine mist sprayers
Boston round bottles with natural fine mist sprayers
Clear boston round bottles with
black
or
white
mini trigger sprayers dispense .21 cc of product per spray and utilize a valve engine to distribute thicker viscosity products, such as hair treatments or hair lotion, helping to create a full product line of cohesive hair care products. Consider clear
custom labels
for creating a dynamic packaging display. These labels are waterproof and showcase the products packaged within.
SKS offers natural LDPE and HDPE boston round bottles with a range of dispensing caps for packaging salon supplies, including hair dye, color treatments, tool cleaning liquids, and much more. HDPE and LDPE plastics are flexible and highly durable, have good moisture barriers, excellent impact resistance, and resistance to acids, alcohol, and ketones. With LDPE boston round bottles, opt for natural
yorker tip caps
or
twist top caps
for direct application of products with ease from all angles. The combination of high flexibility and stream-like dispensing provides a versatile experience.
Choose HDPE boston round bottles paired with
lotion pumps
to meet your dispensing needs. The white smooth lotion pumps dispense 4 cc per pump through a metal-free pathway for minimal contact with hair care products. The 16 oz and 32 oz HDPE boston round bottles with white pumps offer a durable choice when packaging shampoo for salon sink stations or signature styling products. These HDPE boston round bottles also create a cohesive packaging option for customers to purchase salon-quality products for at-home hair care.
Sign up for SKS Emails!