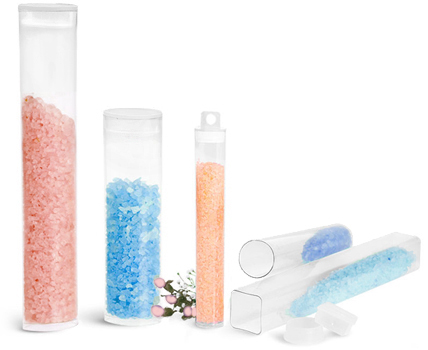 Product Spotlight - Plastic Flex Tubes
Plastic Flex Tubes for Bath Salts
SKS offers a range of stylish and practical bath salt tubes. Bath salt tubes can be a great selection for easily packaging bath products for gift sets, hotel amenities, promotional samples, and single-use volumes.
Plastic Bath Salt Tubes
Propionate plastic possesses high clarity for showcasing products and offers a combination of lightweight flexibility and durability for conveniently packaging bath salts and other bath products. Round, oval, and square plastic flex tubes are paired with natural HDPE plugs that create a snug fit for clean shipping and storing. SKS offers a range of white or clear backed
labels
for custom branding these bath salt tubes. After selecting the bath tubes, click the label icon under the Add-ons menu to browse all of the suggested label sizes and shapes.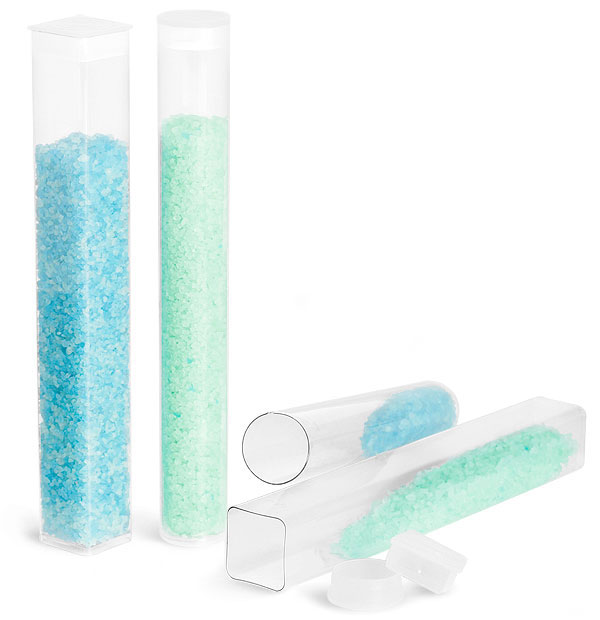 Tall, slender propionate bath salt tubes and shorter PET bath salt tubes are paired with LDPE plugs with hang tags. PET bath salt tubes share the same high level of clarity and impact resistance as propionate plastic, while also providing good barriers against moisture. The hang tags create an option for attaching product information on a tag tied with yarn, ribbon, or rope to match your product line. These bath salt tubes can also be used to showcase your brand when offering promotional samples, hotel amenities, and more. Browse our industry spotlight for more creative
bath salt container
and bath product packaging ideas.
Purchase Plastic Flex Tubes


Clear Propionate Round Tubes w/ Natural LDPE Hang Tab Plugs
Chat with Us
Sign up for SKS Emails!