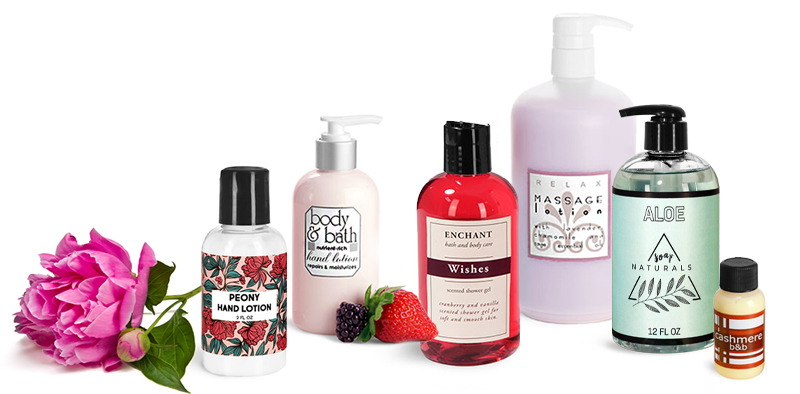 Body Care Products with Natural and Clear Boston Round Bottles
Clear and natural boston round bottles with dispensing caps can help create dynamic packaging options for a full line of body care products, including lotion, body wash, facial cleansers, and much more.
Clear boston round bottles with lotion pumps provide stylish and secure packaging for body care products. Clear PET boston round bottles offer high clarity, impact resistance, good barriers to gas and moisture, and are highly resistant to dilute acids, oil, and alcohol. Clear plastic bottles can help to enhance and showcase the colors of your products, creating another layer of design when presenting a cohesive and eye-catching product line. SKS offers clear boston round bottles in a wide range of sizes, with varying neck finishes for pairing with lotion pumps.
The standard
white
and
black
lotion pumps and treatment pumps paired with clear boston round bottles are a top choice for lighter lotions and cleansers. The white and black lotion pumps dispense 0.5 ml of product per stroke, and the treatment pumps dispense .25 cc of product per pump. Both styles include a locking mechanism in the neck for clean shipping and storage. Choose
clear boston round bottles
with white lotion or treatment pumps with a brushed aluminum collar. The brushed aluminum lotion pumps dispense 2 cc per stroke, and the treatment pumps distribute .4 ml product and include a clear styrene hood.
For packaging thicker lotions or creams, select clear boston round bottles with
white
,
natural
, or
black
smooth lotion pumps. These lotion pumps include a metal-free pathway and wider dip tube and dispensing paths for handling thicker viscosity products with ease. 8 oz, 12 oz, and 16 oz clear boston round bottles matched with these lotion pumps offer a desirable packaging choice for lotion, sunscreen, and other body care products.
Natural boston round bottles composed of LDPE or HDPE are matched with dispensing caps for housing body care products that could include face wash, body scrubs, and more. HDPE and LDPE plastics are flexible and highly durable, have good moisture barriers, excellent impact resistance, and resistance against acids, alcohol, and ketones.
Choose natural boston round bottles with
black
,
white
, or
natural
snap top caps for an easy to squeeze dispensing option across a range of viscosities. HDPE natural boston round bottles paired with
white
,
black
, or
natural
disc top caps provide a very durable and clean way to present body care products. The disc top caps are versatile and can be used to package a full product line. Disc top caps are easy to open and close and, without the use of dip tubes, they can easily dispense products, like face wash or face masks. SKS highly suggests testing these clear and natural boston round bottles for compatibility and reviewing the
body care industry
index for even more creative ideas.
Sign up for SKS Emails!