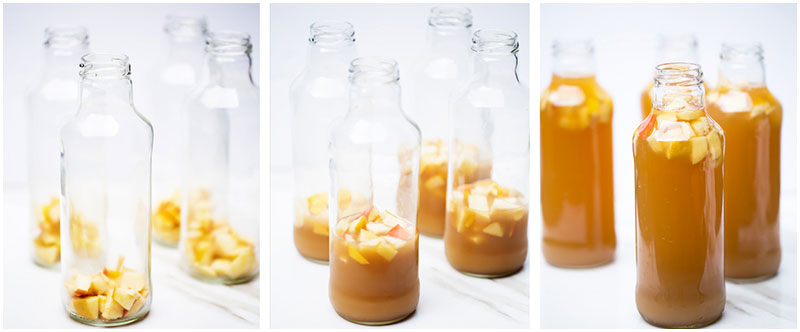 DIY - Pink Lady Apple Kombucha in Glass Beverage Bottles
As Seen On One Armed Mama
Kombucha gets a seasonal upgrade with pink lady apples and cider. This flavor combination is a winner.. Tart kombucha tea with juicy pink lady apples and not too sweet apple cider. Kombucha, a fermented sweet tea, is fizzy, lightly sweet and fruity + the bonus of health claims and caffeine! In its simplicity, it is just sweet tea combined with starter tea and scoby (symbiotic colony of bacteria and yeast) which after 5-7 or so days devours the sugar resulting in basic unflavored kombucha. Unflavored kombucha can be refrigerated and consumed as is, but I like it best after a second ferment. The second fermentation or flavoring happens when you take already brewed Kombucha and infuse it with fruits, herbs, or flowers. Check out this fun Pink Lady Kombucha recipe using Glass Beverage Bottles.

For more great recipes check out the One Armed Mama blog!
RECIPE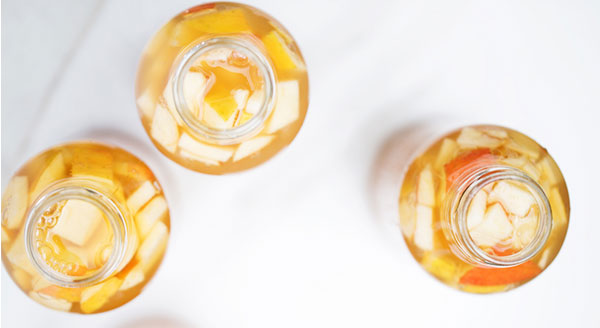 Ingredients
64 oz plain kombucha (either home brewed or store-bought)
1 1/2 cups pink lady apples diced
3 cups apple cider
Instructions
Divide the chopped apples and cider into 16 ounce lidded bottles ensuring that the total fruit/juice amount does not exceed 30% of the bottle.
Pour plain kombucha to fill leaving very little headspace, so that it gets fizzy as fast as possible. Secure lids.
Let sit at room temperature (70- 85 degrees) for at least 72 hours up to 7 days.
Then store the bottled kombucha in the refrigerator until you are ready to drink.
Serve chilled.
Recipe Notes- The longer you let the second ferment sit at room temperature the more the vinegar flavor will develop. With increased fermentation you also increase the risk of explosion. Fermenting inside a cardboard box is recommended.
Related Products You May Like
Chat with Us
Sign up for SKS Emails!