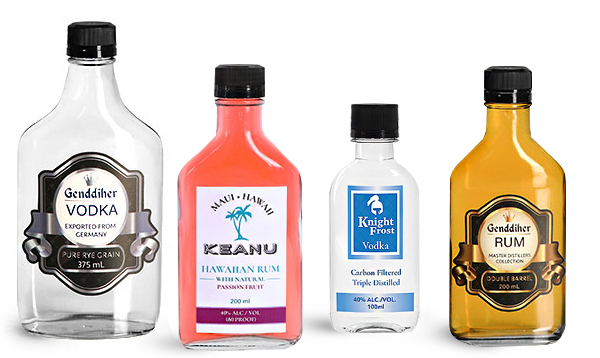 Product Spotlight - Flask & Oblong Bottles
Clear Liquor Flask Bottles
Plastic and glass flask bottles offer a traditional and recognizable packaging option for liquors and other beverages. Clear glass and plastic offers high clarity packaging for brightly colored spiced rums, flavored vodkas, and more! Choose these liquor flasks with black tamper evident caps to provide a secure shopping experience for your customers.
Clear Plastic and Glass Liquor Flask Bottles
Clear glass flask bottles
are available in three sizes that are convenient to hold and pour, and include front and back label paneling options. The slender necks assist in pouring to reducing spillage, while accurately measuring to create mixed drinks. Choose
custom labels
to display your unique logo and flavors on the front, as well as the essential information regarding your deliciously distilled spirits.
SKS also offers
clear PET plastic flasks
in an easy to hold rectangular shape with a slender neck, and plastic composition for easy transportation. The clear plastic flasks provide impact resistance, oxygen barriers, and stiffness. Choosing plastic liquor flasks may help to reduce loss through breakage, while still providing a dynamic look.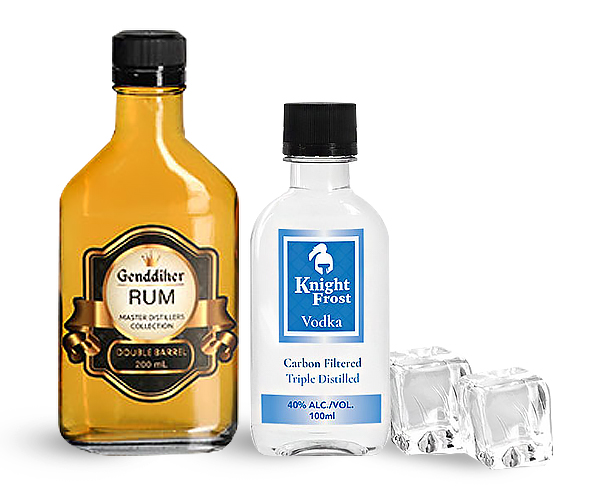 Tamper Evident Cap Highlights:
No equipment needed
Clear visual indication of prior opening
Inexpensive tamper evident choice


Both the plastic and glass flask bottles include black ribbed tamper evident caps, providing a secure purchasing experience for your customers. The necks of these liquor bottles include a secondary ring molded under the threading. When first opened, the secondary ring forces the plastic rings at the bottom of the tamper evident caps to detach from the upper portion of the closure and remain on the neck of the bottles. This is an easy way to ensure customers they are the first to open your filled flask bottles, allowing you to meet packaging requirements with ease.
Purchase Flask & Oblong Bottles
Chat with Us
Sign up for SKS Emails!