Customer Pickup Center Terms & Conditions
Save Money and Get Your Containers Faster by Picking up Your Order!
SKS has opened convenient Customer Pickup Centers at our Saratoga, NY, and Reno, NV facilities. Local customers can now eliminate shipping costs and receive their containers faster by scheduling a fast and FREE pickup with SKS. Read below to find out how.
Conditions and Eligibility
If your order does not meet these criteria, the Customer Pickup option will not be displayed during Checkout. If the Pickup option is not shown while you are checking out or if you have any questions on eligibility, you may
contact us for assistance
. Our Customer Care team may be able to assist in setting up a Pickup for you.
For Saratoga, NY Pick Up Ship-to accounts located in the Northeastern United States, including NY, NJ, NH, MA, VT, CT, RI and ME customers.
For Reno, NV Pick Up Ship-to accounts located in adjacent states, including Nevada, Oregon, California, Arizona, Utah and Idaho customers.
All products on your order must be currently available at the pick up location, including no backordered items.
Minimum order subtotal of $150.00 (unless you are an SKS Loyalty Program member).
Choosing the Customer Pickup Option
If your order is eligible for Pickup, look for Customer Pickup as a no-charge option in the menu of ship method options. To select Customer Pickup, click the radio button to select it. You will then see a section for Pickup options revealed. To proceed, make the following selections:
Choose your pickup date. Click the date selection calendar to pick the date when you would like to pick up your order. You will be able to select any business day (excluding weekends and holidays) between 1 day and 1 month after the current date. Next, select the time of day when you would like to arrive at our Pickup Center (morning or afternoon). Note: If you are choosing Next Day Pickup and it is currently past 12:00 pm EST, the earliest available pickup time will be afternoon (PM) on the next business day, to allow time for order processing.
Choose your payment option You can either choose to pre-pay for your order, or pay at the time of pickup. If you are pre-paying for your order, you will proceed through the checkout process as usual, with the option to pay with a credit card or through PayPal.

If you choose to pay at the time of Pickup, you will proceed directly to the Confirmation step to review the details of your order. Payment with a credit card will be due at the time of pickup. If you choose this option, you will have a chance to apply discounts and Container Cash to your order before proceeding.
Order Processing
Your order will be processed and prepared promptly at our facility and will be ready on or before the Pickup date chosen. When your order is ready for pickup, we will send you an email notification with further instructions and a reminder of your scheduled pickup time.
Picking Up Your Order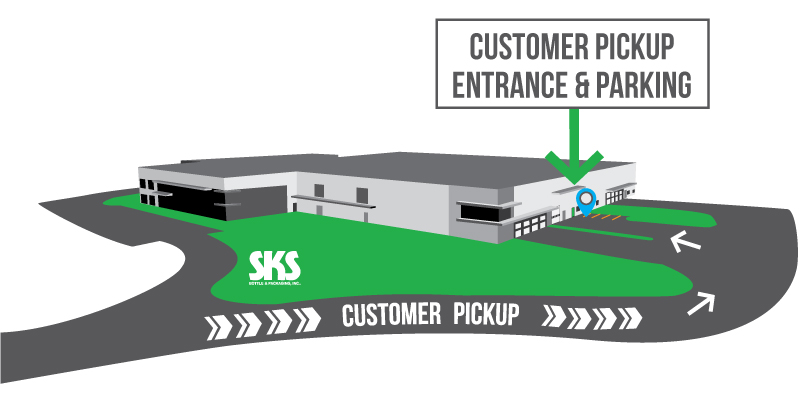 You may arrive at our Customer Pickup center at your convenience within the window of time specified for your scheduled pickup. Parking is available for our Pickup customers in the front of the SKS building where the entrance to our Pickup Center is located. Proceed through the door marked Customer Pickup. A friendly and knowledgeable SKS rep will be waiting to assist you with your order. Please allow approximately 10 minutes for processing at the time of pickup.
Our sales rep will review the contents of your order with you to ensure accuracy. If you prepaid for your order during checkout, you will be able to simply take your order and be on your way! If you chose to pay at the time of pickup, your order will be complete and ready for you to take upon successful processing of your credit card payment.
Please note: pickup orders with a balance due cannot be picked up until credit card payment is successfully processed. Please have a valid Visa, MasterCard, Discover or American Express card ready. We are unable to accept cash or checks as payment.
Sign up for SKS Emails!