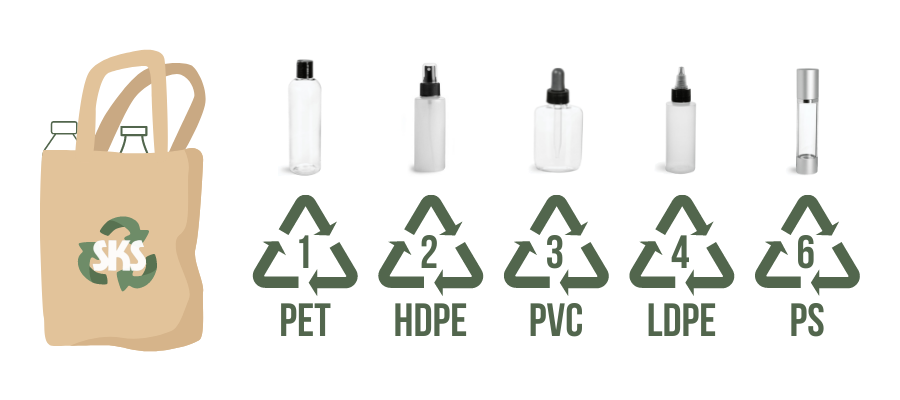 Are Plastic Bottles Recyclable?
Are plastic bottles recyclable? Yes, and SKS is happy to break down this information to ensure you can be as green as possible. Whether you are using clear plastic bottles for beverages and sauces, white plastic bottles for body care products, or dropper bottles for OTC remedies, SKS offers a wide selection of recyclable containers to fit your needs.
SKS carries plastic bottles in
PET
,
LDPE
,
HDPE
,
PS
, and
PVC
materials. Each plastic type features different barriers, flexibility, and bottle styles for packaging a wide range of products.
Plastic Bottle Features:
PET: excellent moisture barriers, good UV protection (dark color options), and good oxygen barriers.
LDPE: excellent flexibility, good barriers against moisture and oxygen, and excellent impact resistance.
HDPE: semi-flexibility, higher density version of LDPE, excellent moisture barrier, and strong resistance to chemicals.
PVC: excellent transparency, chemical resistance, and long-term stability.
PS: rigid, glass-like plastic with complete transparency, impact resistant, and good chemical resistance.
Plastic packaging has
recycle codes
that help identify the correct recycling process. After you recycle plastic bottles, they are sorted, cleaned, shredded, and then melted into pellets that are used to create a wide range of products. Recycled plastics can be used for
PCR
containers, shipping packaging, and a lot more!
The Benefits of Recycling Plastic:
Prevent pollution that is impacting the globe.
Reduce the need for new raw materials, which in turn reduces the physical impact on the planet.
Lower energy consumption during production allows for cleaner production of plastic containers.
Diminish landfill sizes.
Recycling plastic bottles is easy. Be sure to rinse bottles before recycling, remove caps, sort by your local recycling provider's guidelines, and do not leave recycling in plastic bags. Labels do not need to be removed before recycling, allowing for custom branding while staying eco-friendly.
Choose from SKS' large variety of plastic bottles with closures for packaging body care products, food products, personal care products, cleaning supplies, and much more!
Plastic Bottles You May Like
Chat with Us
Sign up for SKS Emails!