The Packaging Rap

SKS Bottle & Packaging Newsletter
---
Bath & Body Care Packaging
June 2021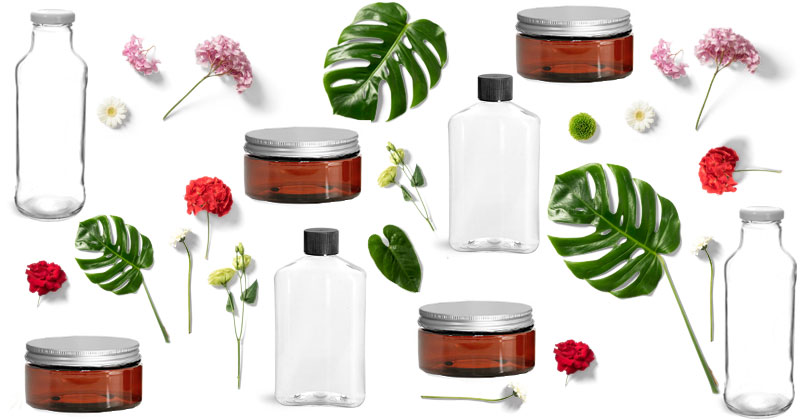 SKS has a unique selection of metal, glass, and plastic containers suitable for various bath and body care products. Choose from a range of sizes, shapes, colors, and closures to suit your needs. Our extensive collection of bottles and jars provides the perfect packaging solution for any bath and body care line!
---
This DIY Moisturizing Shower Gel from Oh Lardy is perfect for anyone trying to detoxify their bath & beauty routine. Conveniently store this homemade shower gel recipe in our 4 oz clear PET oblong bottles with black ribbed caps.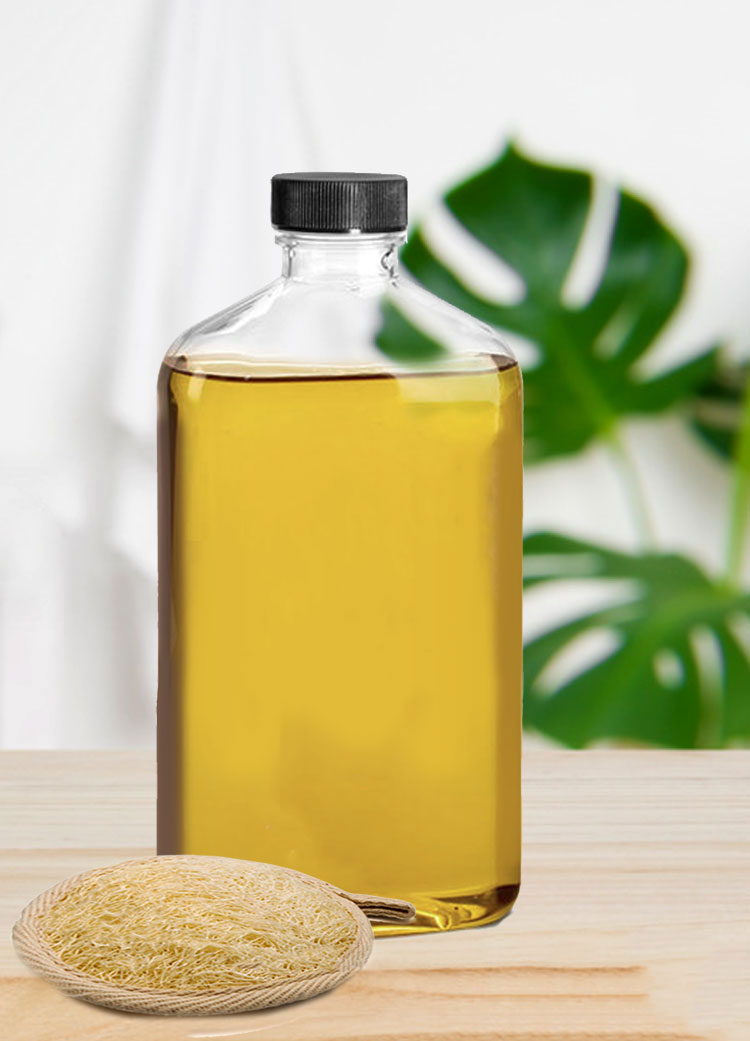 2 oz liquid castile soap: gentle soap made from saponified oils; has hydrating properties


1 oz raw honey: is a humectant, which draws moisture to the skin


1 oz sweet almond oil: lightweight carrier oil; absorbs easily and moisturizes skin


20 drops rosemary essential oil: hydrates the skin and helps control oil production
Clear PET oblong bottles with black ribbed caps are available in three sizes, including 4 oz, 8 oz, and 16 oz. The PE liner attached to the black ribbed screw caps is an ideal general-purpose liner that creates a stable seal. Compressible PE foam liners feature good resistance to acids, alkalis, solvents, alcohol, oil, household cosmetics, and aqueous products. PET plastic is a good choice for product packaging because it is rigid, highly resistant to dilute acids, oil, and alcohol, and has excellent barriers against gas and moisture. These plastic bottles could make excellent packaging for bath and body care products, household cleaners, and much more.
---
This Summer Blueberry Sugar Scrub recipe with tea seed oil from the Soap Deli News Blog gently exfoliates and moisturizes skin to keep it looking healthy all season long! This homemade body scrub can be beautifully housed in our 8 oz amber PET heavy wall jars with lined aluminum caps.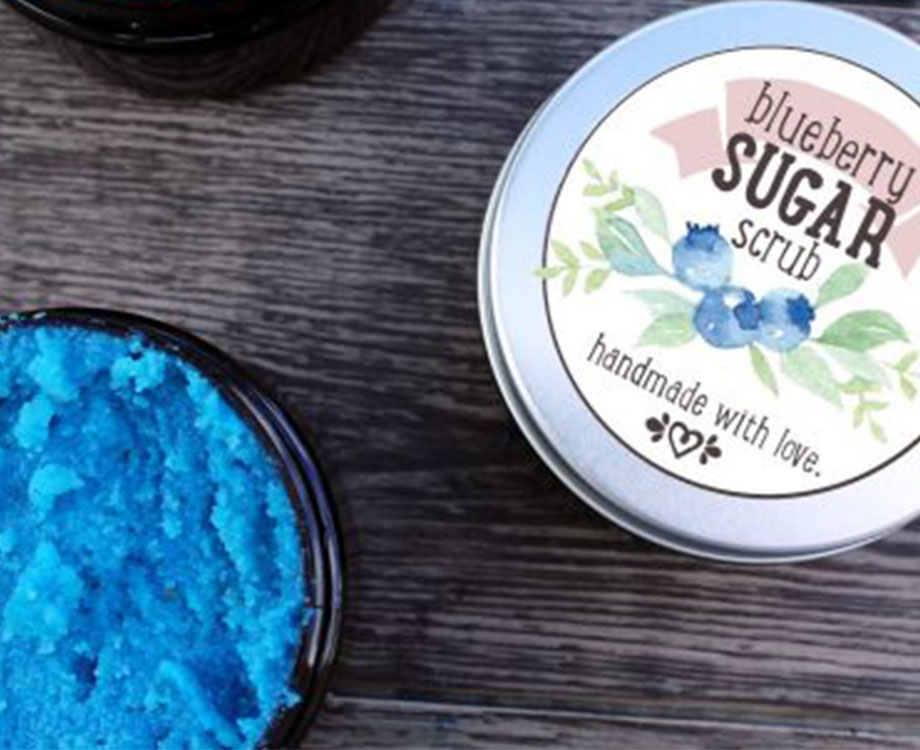 36 oz granulated white sugar: natural exfoliant


12 oz refined shea butter: highly moisturizing; softens and soothes skin


3.5 oz camellia tea seed oil: excellent emollient for keeping skin and hair moist and supple


2 oz clear jojoba oil: non-greasy, deeply hydrating carrier oil.


2 oz emulsifying wax: improves consistency and texture without leaving a greasy film on the skin after application


.65 oz blueberry fragrance oil: gives scrub a sweet, fruity scent


.25 oz flax seed powder: helps skin stay smooth and hydrated


.15 oz blue oil locking mica powder: skin safe colorant
Amber PET heavy wall plastic jars with lined aluminum closures come in a 2 oz, 4 oz, and 8 oz size. The plastic jar construction is impact resistant, lightweight, and includes moisture barriers to assist with product preservation and storage. Amber PET can filter UV rays, protecting light-sensitive products from their potentially harmful effects. The silver aluminum PE-F217 lined caps provide excellent chemical resistance and a low moisture transmission rate. Test these amber plastic jars with aluminum lids for packaging products that could include body butter, lotion, face cream, and more.
---
This Spiced Chai Bath Salt recipe from Parsnips + Pastries is made with ingredients that not only smell amazing, but also offer plenty of benefits for your skin. Try packaging and displaying these bath salt creations in our 16 oz clear glass bottles with white metal plastisol lined lug caps.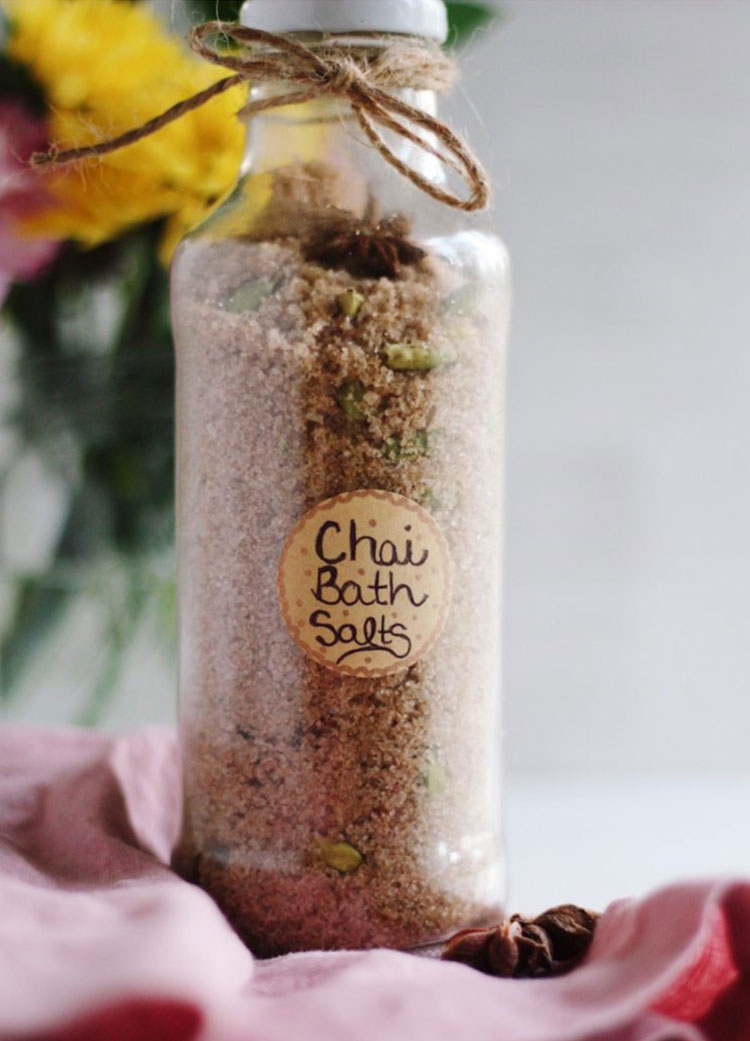 1 cup Epsom salt: helps exfoliate skin by removing dead skin cells


1 cup Himalayan pink salt: antimicrobial skin cleanser


1/4 cup baking soda: helps lighten blemishes and dark spots


1 tsp ground cloves: has anti-bacterial and anti-fungal properties


1 tbsp ground ginger: fights skin-damaging free radicals; promotes a smooth and even skin tone


2 tsp ground cardamom: acts as a skin purifier by clearing out blemishes


2 tsp ground anise: detoxifies the skin


1 tbsp ground cinnamon: useful against acne and skin blemishes


2 tbsp almond oil: lightweight carrier oil that is a great moisturizer for dry skin


10 drops sweet orange essential oil: helps detoxify and remove skin impurities


5 drops ginger essential oil: protects skin from signs of aging


5 drops cinnamon essential oil: fights against microbes contributing to skin problems
The clear glass tall bottles are available in a 16 oz size and can be paired with both a white or gold metal lug cap. A plastisol liner on the inside of the metal lug cap creates an airtight, tamper-evident seal against the container when properly heated and cooled. Plastisol liners assist with long-term storage and maintaining product freshness. Our line of clear glass bottles could be great for storing bath salts, mini bath bombs, bath beads, and more.
---
Packaging Tip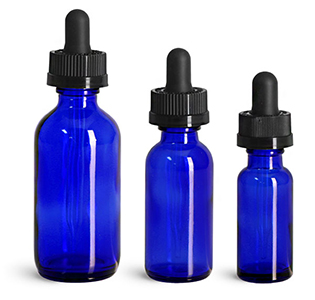 Cobalt Blue Glass
Cobalt blue glass is given its color either from cobalt oxide or cobalt carbonate. When glass is made from heating sand and other sources of carbon to very high temperatures, the heat causes the carbon to become a molten substance. Before the glass can cool and solidify, cobalt metal can be added to the mixture to give the glass a deep blue color. Blue glass provides adequate oxidation protection for products as it absorbs more light than clear glass bottles. Oxidation breaks down products and negates their intended effects over time, making cobalt blue glass a good choice for essential oils, soap and bath products, herbal products, perfumes, cosmetics, and serums.
---
Product of the Month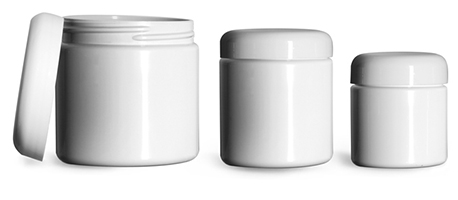 White PET (PCR) Straight Sided Jars with White PE Lined Dome Caps
White PET (PCR) straight-sided jars with white dome caps are available in 2 oz, 4 oz, 8 oz, and 16 oz sizes. White PCR is composed of PET plastic that has been recycled to reduce the amount of landfill plastic. These plastic jars offer all the same benefits as PET and are paired with white dome caps with PE liners, which have excellent chemical, taste, and odor resistance, as well as a low moisture transmission rate. Consider these white eco-friendly plastic jars with white dome caps for housing a range of body care products, cosmetics, and more.