The Packaging Rap

SKS Bottle & Packaging Newsletter
---
Handmade Recipes in SKS Candle Containers
May 2021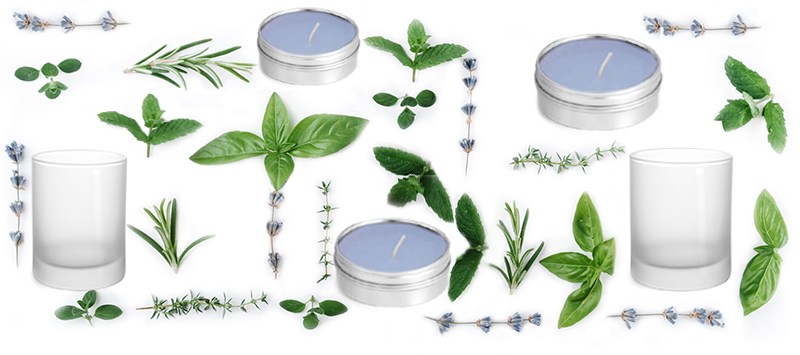 Our extensive line of candle containers is perfect for both the candle hobbyist or professional candle maker. SKS offers various glass candle jars, candle votives, and metal candle tins in multiple sizes, shapes, and colors. Glass jars are offered in clear, frosted, and amber, while metal tins can be found in silver or gold. As always, you should test your candle containers for compatibility and exercise caution when making or burning candles.
---
Learn how to create different soy and beeswax candles with these simple tutorials from the Soap Deli News Blog. Soy wax and beeswax are great choices when making candles at home because they are made from environmentally friendly and renewable resources. In contrast, classic paraffin wax is made from petroleum and is non-renewable. Soy wax and beeswax are also non-toxic and burn cleaner than traditional candles and, therefore, emit less soot.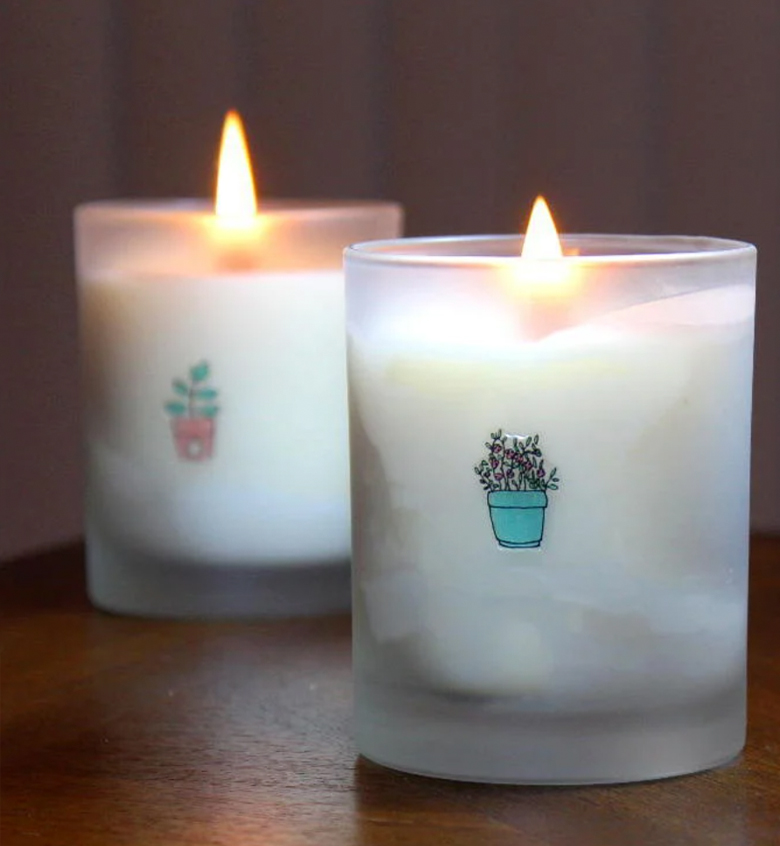 Tackle tough odors anywhere in your home with this DIY odor neutralizing candle. Containing only four ingredients, this natural deodorizing candle recipe is easy to follow and perfect for the beginning candle crafter.
7.5 oz soy wax


3.25 oz beeswax


.8 oz eucalyptus essential oil
.5 oz tea tree oil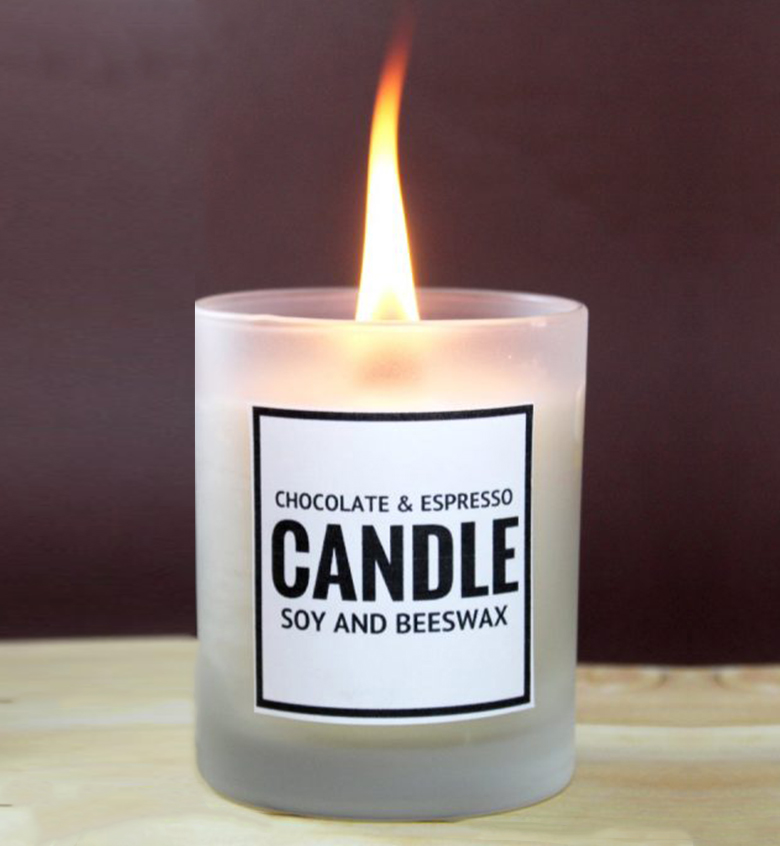 Fill any room with the sweet and savory scent of chocolate and espresso with this soy and beeswax candle recipe. Keep this homemade candle to fill your favorite space with delicious aromas, or use a custom label and gift to friends and family.
6 oz soy wax


5.5 oz natural filtered white beeswax


.75 oz espresso fragrance oil


.35 oz chocolate fragrance oil
Beautifully house both of these handmade candle recipes in our frosted glass candle jars, which are available in a 7.75 oz size. These glass jars feature a soft, frosted finish and sturdy base. Customize these frosted glass jars with a creative label to showcase your brand and the scents of your candles. Frosted candle jars offer a stylish packaging option for household candles, wedding favors, and more. In addition to these glass candle jars, SKS also offers a wide variety of metal candle tins that could be perfect for DIY soy and beeswax candle creations.
---
Create a refreshing citrus scented candle with this DIY recipe, courtesy of From The Family. These 16 oz Lemon and Coconut Oil Beeswax Candles can be conveniently stored in our line of mason jars or many of the other large clear glass jars we supply.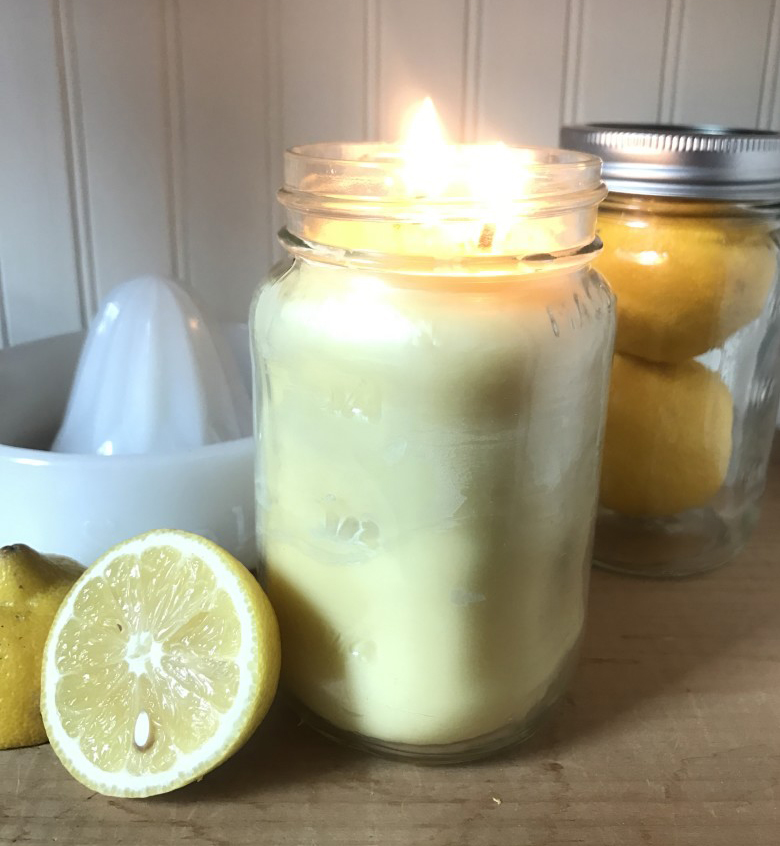 7.5 oz soy wax


1 pound beeswax


1/2 cup coconut oil


20 drops lemon essential oil
When making candles, it is essential to have the correct type of glass container to withstand the heat created while the handmade candle burns. For this reason, many candle makers prefer jelly jars or canning jars when choosing a candle container. During the canning process, glass jars are often sterilized and sealed using a hot water bath, with temperatures up to 180℉. Canning jars are made of thick glass to withstand these high temperatures, making them a good choice for housing hot candle wax. SKS offers a variety of glass jars that could be suitable for homemade candles.
---
Packaging Tip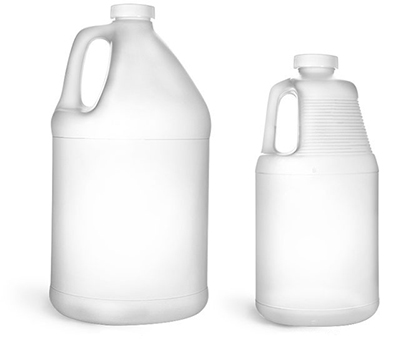 HDPE Plastic
HDPE, or high density polyethylene, is a higher density version of PE plastic. It is harder, stronger, and slightly heavier than LDPE and PE. HDPE is used in many packaging applications because it is lightweight, mildly stiff, impact resistant, and has great moisture barrier properties. HDPE plastic also has good resistance to chemicals, so it is commonly used to package many household and industrial cleaning products, including detergent, bleach, and acids. SKS offers HDPE plastic bottles in multiple shapes and sizes. These plastic bottles can be paired with a variety of closure options and come in natural, and white HDPE plastic.
---
Product of the Month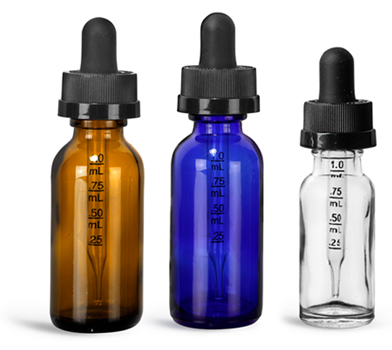 Glass Boston Round Bottles with Child Resistant Graduated Glass Droppers
Glass boston round bottles paired with black child resistant graduated droppers are available in both a 1/2 oz and 1 oz size. These glass bottles come in a variety of colors, including clear, frosted, blue, and amber. The blue and amber glass offers UV protection for light-sensitive ingredients and helps preserve products. The black ribbed child resistant caps include opening instructions embossed on the top, and the attached glass pipettes feature graduations printed in quarter ml increments to ensure accurate dispensing. Select this set for packaging a range of products that could include pharmaceuticals, cosmetics, CBD tinctures, and more.