The Packaging Rap

SKS Bottle & Packaging Newsletter
---
Canning Jar Recipes
August 2020

SKS offers an extensive selection of canning jars, including glass jelly jars, tall paragon jars, glass hexagon jars, and oval hexagon canning jars. These glass canning jars come in a wide range of sizes with a variety of cap options. From canning homemade sauces and jellies, to preserving fruits and vegetables, SKS's line of pickling and canning containers are a great option for both small and large-scale production.
---
Glass hexagon canning jars offer a unique way to package jams and jellies and are a perfect fit for Love & Olive Oil's Strawberry Margarita Jam. This recipe yields 30 ounces of jam and turns a classic cocktail into a sweet and savory spread that is a perfect addition to a cheese plate or bowl of ice cream.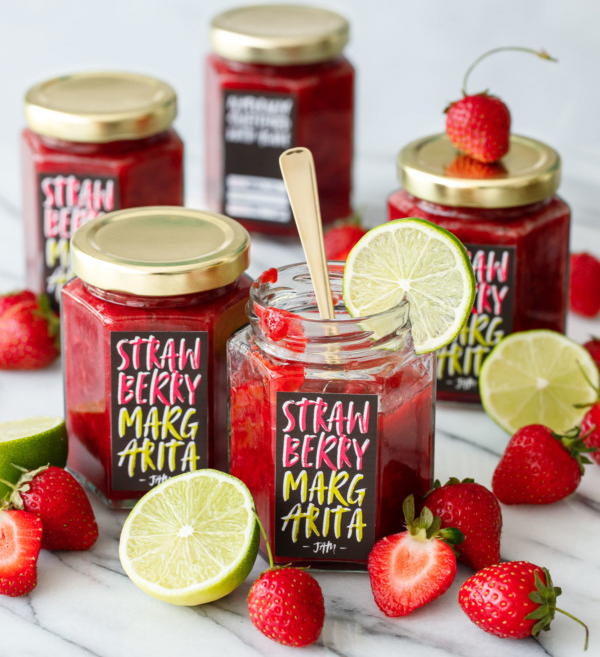 28 oz fresh or frozen strawberries, hulled and coarsely chopped
1/3 cup agave nectar
1 1/2 teaspoons Pomona's Universal Pectin
1/4 cup lime juice (from about 3 limes)
1 teaspoon finely grated lime zest
1 1/2 teaspoons calcium water
2 tablespoon silver tequila
1 tablespoon triple sec or Grand Marnier
A pinch of salt
Hex jars get their name from their structure, which is composed of six sides, like that of a hexagon. Hexagon canning jars are available in sizes ranging from 1.5 oz to 9 oz and can be paired with gold, black, red, and silver lug caps.
---
Preserve your summer tomato harvest with this recipe from Forks & Folly that can be easily stored in 200 ml glass wide mouth canning jars. These homemade sundried tomatoes are packed and stored with fresh herbs and olive oil, making them the perfect complement to pizza, salad, pasta, and more.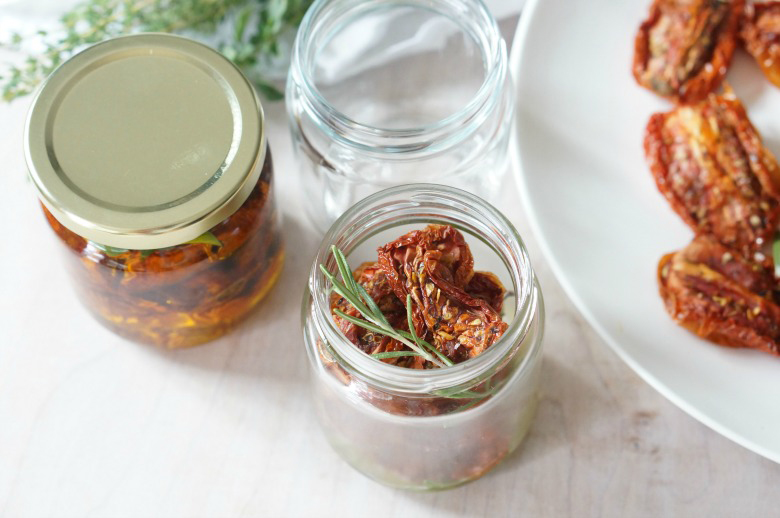 16 plum tomatoes, sliced
1 tbsp olive oil
1 tsp salt
1 tbsp sugar
1 tsp dried basil
1 tsp oregano
1 tsp rosemary
The wide mouth of these canning jars allows the user to easily scoop out product. Glass wide mouth jars are also available in both a 60 ml and 140 ml size. Red, gold, black, and silver metal plastisol lined caps can be paired with these canning jars to showcase different products or flavors.
---
SKS offers 8 oz jelly jars, which are great for storing this fresh radish cucumber salsa from Moon and Spoon and Yum. Perfect for topping tacos or pairing with a bag of tortilla chips, this salsa is crisp and refreshing with all the right flavors for summer.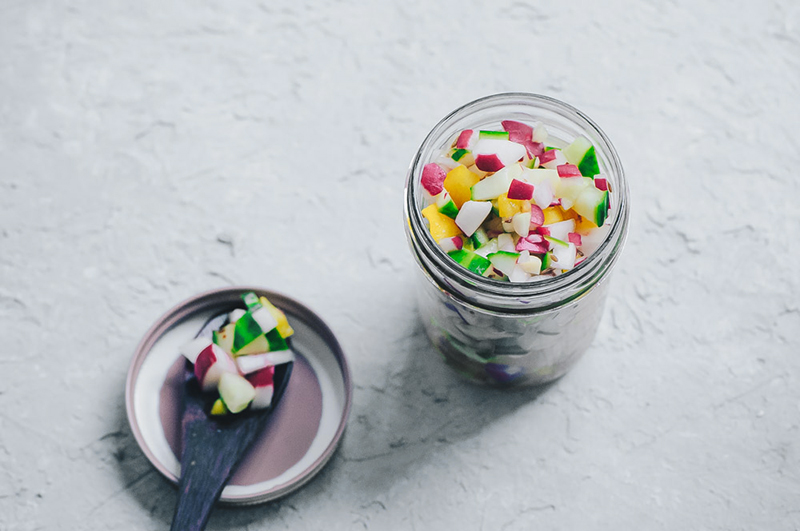 1 1/2 cups chopped radish
1 chopped cucumber
1 chopped bell pepper
1 garlic clove, minced
1/2 tsp cumin seeds
1/4 tsp red chili flakes
1/4 tsp ground black pepper
1/2 tsp sea salt
2 tbsp + 1/2 tsp apple cider vinegar or lime juice
These clear glass jelly jars feature tall, straight sides, a sturdy base, and wide opening and come in an 8 oz size. These glass jars are available with single piece bronze, red, or gold metal caps and are also paired with gold or silver two-piece canning lids.
---
Packaging Tip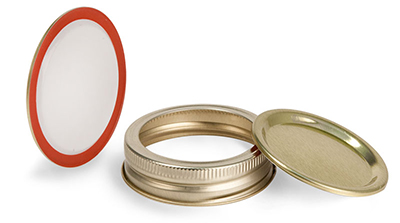 Plastisol Lined Caps
Metal plastisol lined caps are a great option for canning or pickling. When activated correctly, the plastisol liners seal the preserve jars with a tamper evident, airtight, hermetic seal that maintains product freshness. SKS offers a variety of plastisol lined metal caps, including lug caps, two-piece canning lids with bands, and metal caps with buttons. Lug caps have angled metal tabs positioned on the inside of the cap skirt that grip the threading of glass jars with a lug finish as the cap is twisted into place. Two-piece canning lids feature a flat piece with a plastisol seal and threaded band that screws tightly to glass jars. The threaded band of the jar caps can be used repeatedly, whereas the plastisol lined lid offers one-time use. Metal caps with buttons feature a center button that depresses once the hermetic seal is activated. When the glass jars are first opened, the button on the jar caps pops up, indicating that the tamper evident seal has been broken.
---
Product of the Month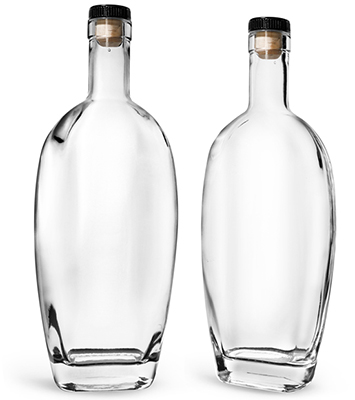 Westside Bar Top Bottles
Westside style glass liquor bottles feature a tall, oval shape with convenient front and back panels for easy labeling, a slender neck for pouring, and a sturdy base. The spirit bottles are available with both black ribbed bar tops and stained wood bar tops. The black ribbed bar tops provide a good grip when opening and offer a high-end option for packaging. The wood bar tops feature a smooth wood grain and a deep, rich stain. The attached natural corks offer a stylish and eco-friendly closure option. Consider this bar top bottle set for packaging a range of products that could include syrups, spirits, cooking oils, and more.