The Packaging Rap

SKS Bottle & Packaging Newsletter
---
Summer Mason Jar Recipes
July 2020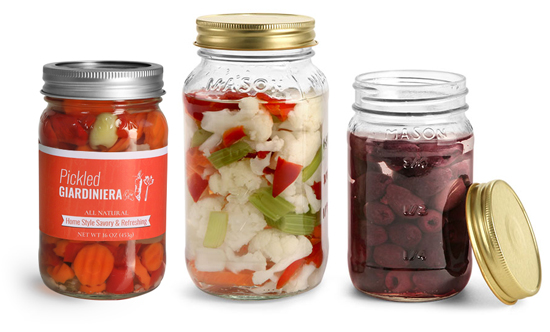 SKS offers glass mason jars in two convenient sizes, including a 16 oz and 25 oz version. Clear mason jars feature thick walls and have a sturdy base construction that is GRAS (Generally Recognized As Safe) and approved by the FDA. Clear glass mason jars include wide openings and tall sides made for easily filling and displaying food products. These glass canning jars can be paired with different cap options including single piece and two-piece metal plastisol lined caps.
---
Mason jar containers are an amazing option for a premade lunch recipe, like this salad from Vegan Chickpea that fits perfectly in our clear glass mason jars with silver two-piece canning lids. This colorful and nutritious massaged kale salad is loaded with raw veggies and chickpeas, and topped with a creamy, mild dressing.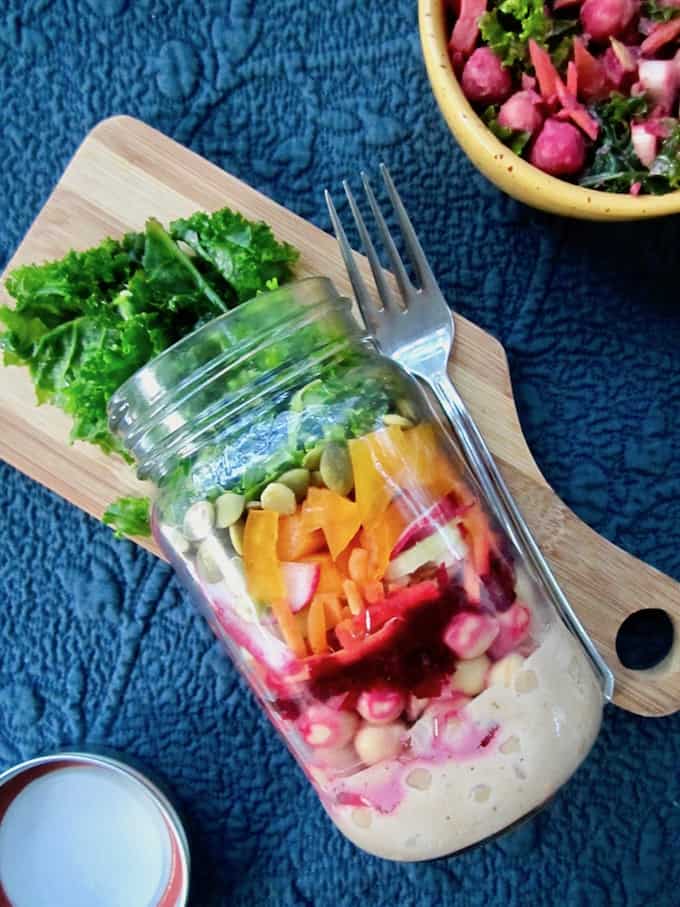 8 cups packed torn kale, seasoned and massaged with 2 tbs olive oil, juice from one lemon, and ¼ tsp sea salt
1 (15 oz) can chickpeas
3/4 cup bell pepper, diced
3/4 cup shredded carrots
3/4 cup fresh beets, grated or diced (about 2 small beets)
2 stalks celery, thinly sliced
3 radishes, thinly sliced
1/4 cup pumpkin seeds (1 Tbsp per jar)
Mason jars are good for storing foods in a pantry or fridge since they are both airtight and watertight. The clear glass exterior allows the contents to be easily viewed without having to open the food jars. Dry erase markers and labels can also be used to mark the mason jar caps and organize as needed.
---
Peak peach season takes place in the month of July. Learn how to preserve peaches in mason jars with this helpful guide from Misfit Gardening.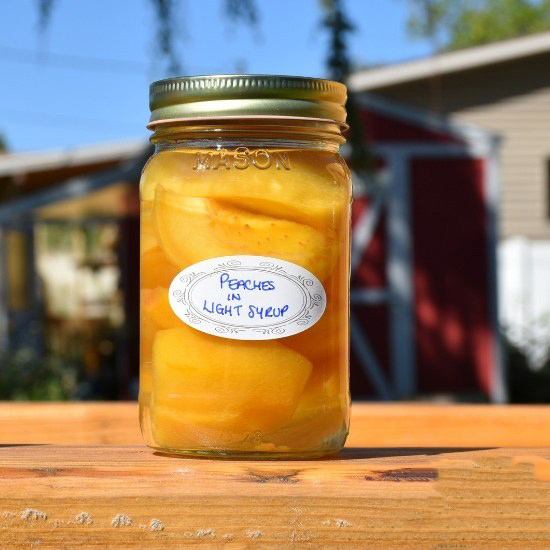 Use just ripe peaches, which are still firm but have lost all the green tint around the stem for canning.
Boil a bushel (about 50 lbs) of peaches in water for 1 to 2 minutes, then place them into ice water to cool.
Peel the skin off.
Cut the peaches into halves or quarters and remove the pits.
Make sure the canning jars are sterilized by boiling in water or using a sterilizing dishwasher cycle, then pack the peaches into the mason jars.
Make simple syrup by mixing sugar and water in a saucepan until it comes to a boil.
Add the syrup to the glass mason jars and seal with canning lids.
The plastisol lined caps paired with these mason jars come in two pieces and are available in silver and gold. The flat piece is the plastisol cap that creates a hermetic seal when properly heated and is constructed for one-time use. The separate threaded band portion of the metal caps screws tightly onto the glass jars and can be used repeatedly.
---
Forks & Folly have the perfect brunch-time mason jar drink recipe with this low country Michelada: brunch in a cup. This one-of-a-kind mason jar cocktail is simple to make and consists of clamato, beer, and a seafood boil garnish.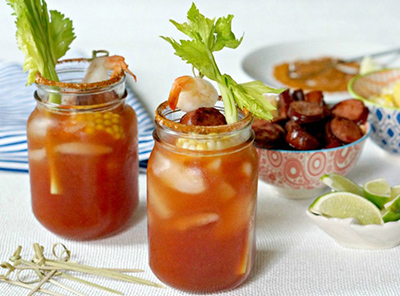 Coat the top of the mason jar by running a lime around the rim and dipping it into a salt and cajun spice blend.
Fill the glass jar with ice, then sprinkle in lime juice, hot sauce, and worcestershire sauce.
Top off with equal parts chilled Clamato juice and cold beer.
Garnish with your favorite toppings, like corn on the cob, browned andouille sausage, and boiled shrimp. Use a celery stalk to stir everything together and enjoy!
Our glass mason jars with single piece metal caps offer the convenience of preparing this drink ahead of time to refrigerate and enjoy later. Simply remove the mason jar caps and add toppings as needed. Mason jars with the single piece metal plastisol caps are available in silver, gold, and bronze.
---
Packaging Tip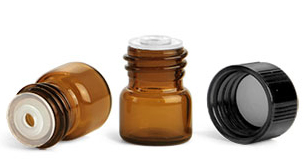 Orifice Reducers
Orifice reducers are a great addition to packaging to ensure a small amount of product is dispensed at a time. The orifice reducers are made from natural LDPE plastic and fit snugly into the opening of various bottles. The size of the orifice determines how much liquid is able to be dispensed. An orifice reducer with a .230 hole is perfect for liquids, like hot sauce, and fits the necks of our woozy and sauce bottles. Orifice reducers with a 4.9 mm hole work well when dispensing many liquid products drop-by-drop and are available in 20 mm, 24 mm, and 28 mm sizes. SKS also offers a 13 mm orifice reducer that has a 3 mm opening, and a 15 mm orifice reducer with a .79 mm orifice, which are great for highly concentrated products, like essential oils.
---
Product of the Month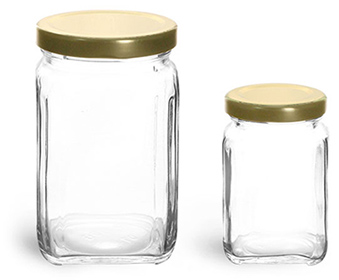 Clear Jars w/ Gold Caps
Square glass jars offer a distinctive shape and are a unique way to package goods like jelly, jam, honey, and more. The square jars are available in both a 3.75 oz and 9.8 oz size. These honey jars include flat label panels for custom branding and wide openings to easily access products. Gold or black lug caps can be paired with these glass jelly jars for a durable and secure packaging option. These tamper evident caps include plastisol liners that create a hermetic seal when properly heated, which helps to preserve products stored in the square glass jelly jars.