Travel Kits with Travel Size Containers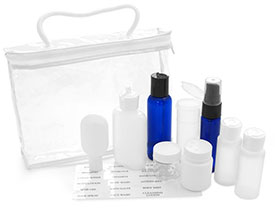 SKS offers a line of multi-purpose travel kits, consisting of clear vinyl bags with travel size toiletry containers. The travel kits are available with a variety of travel size toiletry containers, all of which would be useful for holding small portions of products such as, shampoos, body lotion, mouth wash, cosmetics, and more. These conveniently sized travel bags are made of clear Vinyl plastic, offering a flexible and durable place for your personal items whether you're going to work or traveling. Scroll through to view our assortment of Travel Kits w/ Travel Size Containers and choose your favorite container combination! Try using the clear vinyl bags with sample size containers for creating sample size gift sets!

* As always, you should test your product with the packaging to ensure product compatibility. We do not imply these products are fit for any particular use.

Read more about TSA rules and regulations.
Read More...
No products in this index.
Sign up for SKS Emails!